HORSE SCOTLAND COVID -19 (POSTED O1/12/20)
Please click here for the latest update from Horse Scotland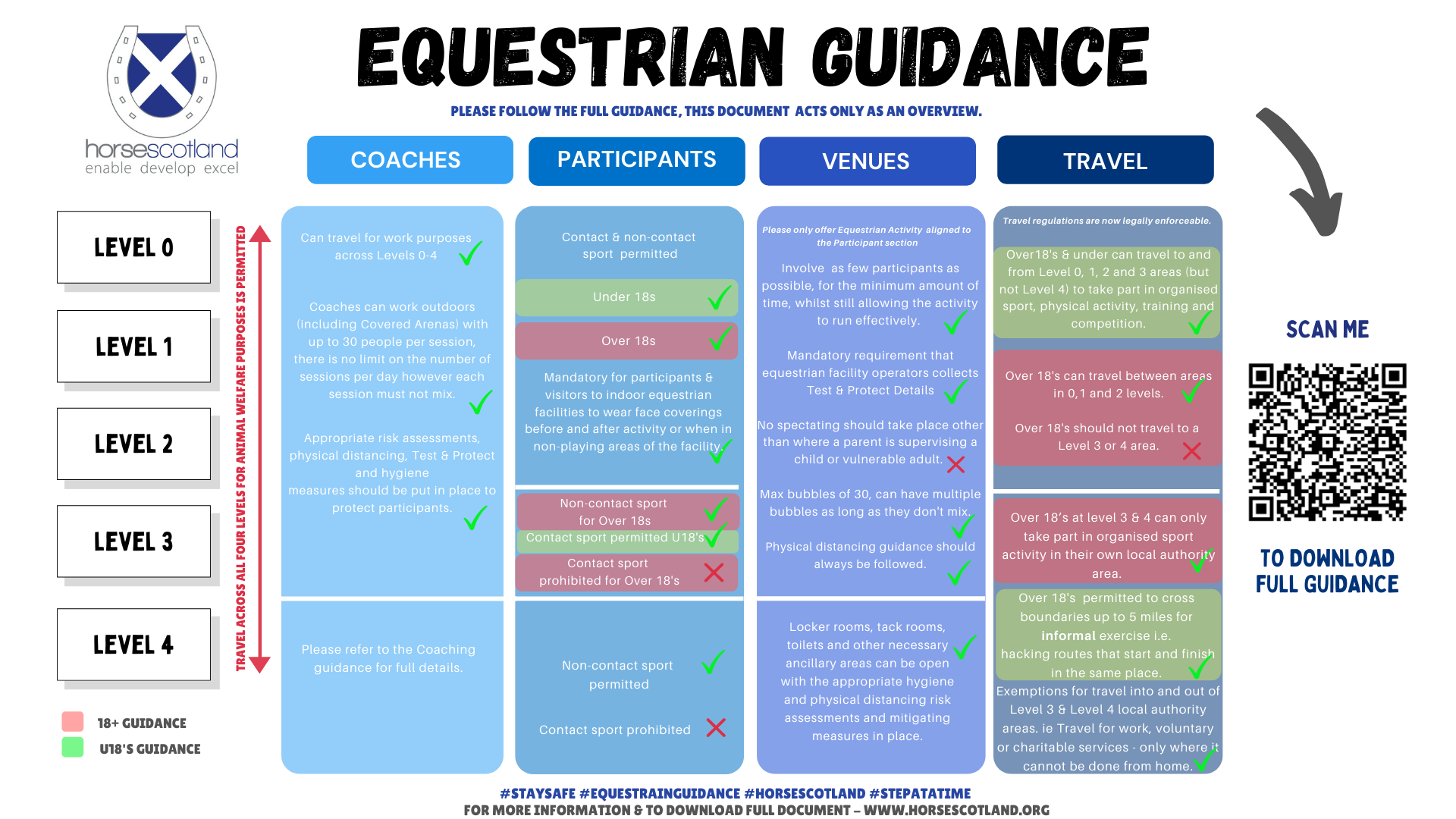 The Side Saddle Association 'Side Saddles' Performance Awards
The Performance Awards are open to all SSA Members and points are accumulated for the performing standards of the horse/pony, rather than the rider. Points are awarded to a horse/pony, based on its own ability to do well under side saddle, across a wide spectrum of activities. The scheme aims to encourage Members to ride side saddle in all events, not just Equitation (which does not count for points). Bonus points are awarded for competing in events and classes affiliated to other Equestrian and Breed Societies. Points are also gained by competing, even if not placed The Competition runs from 1st January to 31st December in any year and is open to stallions, mares and geldings of four years of age and over, competing within the United Kingdom. Horses competing outside the U.K. qualify for the Overseas Championship only. The awards are presented at the AGM and all entries receive a rosette. Why not enter and take part in next year's awards and show the versatility of your horse/pony whilst competing across a variety of disciplines. More details on the categories and how to enter can be found in the Members' Handbook or on the SSA website – Competitions Page - Performance Points Awards.

Kindly sponsored by 'Side Saddles' – The One Stop Side Saddle Shop

Adult Champion 2018 and 2019 - Fantastic Gift ridden by Jenny Murtagh - Hunt

Junior Champion 2019 and 3rd 2018 - Marshland Aero ridden by Moya Payne
ONLINE EQUITATION SERIES (POSTED 30/11/20)
Entries are now open for the first competition – for more information on how to enter please go to www.justsoequestrianevents.co.uk/whats-on
ENTRIES CLOSE AT MIDNIGHT ON MONDAY 14TH DECEMBER
SIDE SADDLE EQUITATING POEM (POSTED 30/11/20)
Please click here to enjoy the poem written by Mrs Jo Jefferson, SSA Judge and Instructor.
HELP YOUR FRIENDS AND FELLOW MEMBERS IN THE MANCHESTER AREA (POSTED 30/11/20)
The clean air act in greater Manchester area will effect a lot of riders who own large vehicles and horse boxes. Once the law comes into force anyone travelling through the area could be charged £60 per day. If you bought a horse in this area and you travel to collect it's an extra £60. Travelling from east to west and driving through the area again payment must be made

Here is a link to the Clean air website and the all important consultation questionnaire:
https://cleanairgm.com
BEF COVID -19 Post lockdown update 26 November 2020 (POSTED 27/11/20)
Please click here for latest information from the BEF.
GOVERNMENT TIERS FROM DECEMBER 2nd 2020 (POSTED 26/11/20)
To find out the coronavirus restrictions in your local area, please click here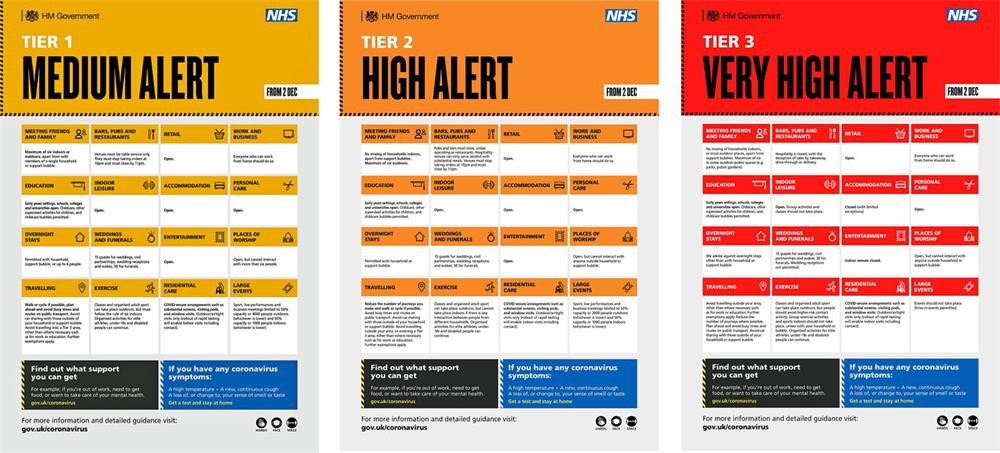 IMPORTANT NOTICE – SSA AGM 2021 (POSTED 23.11.20)
With the current number of Covid-19 cases still increasing in some regions and the recent sad news of the death toll now going over 50,000 the SSA Council comprising of Officers of the Association and Chairmen of Area Committees have discussed the viability of holding a face to face AGM in March 2021.

Whilst the provision of a vaccine is looking hopeful it is not known how quickly this will go through the various categories of people and it looks unlikely the vast number of the population would have access to a vaccination by March 2021; additionally, we understand there may be the prospect of an isolation period after receiving the vaccine. It looks like there may be the chance of family get togethers over Christmas and New Year which could create another spike with the prospect of a further lockdown thereafter.

Our Members are spread across all four parts of the UK which means at any one-time different categories of lockdown interventions can be in place which in many cases prevent travel out of a specific region, in addition some Members also fall into the vulnerable/shielding grouping and would not be able to attend a large gathering.

Given all these factors Council made the unanimous decision to not hold the 2021 AGM as a live face to face meeting; they are very sorry to be making this decision but consider it fairer for all involved for it to be made now rather than at the eleventh hour.

The Side Saddle Association intends to hold the AGM virtually on the designated date of Sunday March 21st at 11am and will do this using the web-based video conferencing tool Zoom. Further details will be circulated with the AGM papers.
FLASH TO THE PAST - THE TITLE SIDE SADDLE RIDER OF THE YEAR (POSTED 23/11/20)
This article covers Jo Jefferson the 1981 Saddle Rider of the Year winner. Please click here to read more
STUCK FOR IDEAS FOR CHRISTMAS (POSTED 23.11.20)
BASEBALL CAPS PLUS PRACTICAL BAGS TO MEET YOUR SHOPPING AND STORAGE NEEDS The SSA has available LED Light Baseball Caps, perfect for dark winter nights at £15.00 inc P&P, Jute Shopping Bags with the SSA Logo on, great value at £8.00 inc P&P plus Stirrup/Kit Bags at £7.20 inc P&P. Click here to download an order form
IMPORTANT UPDATES TO ONLINE EQUITATION COMPETITION
Following Member feedback in respect of access to 20 x 60 arenas we are pleased to announce alternative 20 x 40 tests have been added to the schedule with immediate effect.
Entries are now open – please go to www.justsoequestrianevents.co.uk/whats-on
Please click here for the updated schedule and Rules plus the new 20 x 40 Arena Tests below
Adult Intermediate and Junior Open On Line Equitation Test
Adult Open On Line Equitation Test
BEF COVID -19 Lockdown update 12 November 2020 (POSTED 13/11/20)
Please click here for latest information.
SSA VIRTUAL EQUITATION - FEEDBACK REGARDING ARENA SIZE (posted 12/11/20)
The comments from Members about a 20m x 40m arena test have been duly noted and recognised.
Should the current COVID restrictions be extended beyond the beginning of Dec, we will add new 20m x 40m arena tests to the schedule for the Dec/Jan competition.
LATEST UPDATE FOR SCOTLAND FROM HORSE SCOTLAND (POSTED 11/11/20)
Please click here for latest information.
BEF COVID -19 update 6 November 2020 (POSTED 11/11/20)
Please click here for latest information from the BEF.
CANCELLATION OF PERFORMANCE POINTS 2020 (POSTED 11/11/200
Sadly, Council made the decision in conjunction with Side Saddles, the competition sponsor, to cancel the Performance Points for this year. The reasoning behind this being that very few events have been held this year and they are geographically spread, furthermore, Members in Northern Ireland, Scotland and Wales have had restrictions in place for a longer time than those in England, both these factors mean not everyone has had the opportunity to compete on a level playing field.
The Performance Points are planned to run in 2021, all entries from 2021 will be transferred over but no points accrued during 2020 will carry over, all entrants will start the 2021 year on zero points. If you have paid for 2020 please send an A5 size SAE for your 2021 card to: The S.S.A. Performance Points Secretary, Hillside Farm, Alkham Valley Road, Nr Folkestone, Kent, CT18 7EJ.
If you did not enter the scheme for 2020 please consider entering for 2021, it's a great way of getting out and about riding side saddle across many different disciplines, more details are in the 2020 Handbook and on the SSA website where you can enter online.
The SSA Writing Competition (POSTED 11/11/20)
Please click here to read one of the Highly Commended stories written by B Wilkins from Area 8.
BEF/BHS STATEMENT 09/11/20 (POSTED 11/11/20)
Please click here for latest information from the BEF/BHS.
THE SIDE SADDLE ASSOCIATION VIRTUAL EQUITATION COMPETITION
In association with Just So Equestrian Events
www.justsoequestrianevents.co.uk
To Be held for 4 months Across the Winter of 2020/21
INCLUDES A VIRTUAL EQUITATION POINTS CHAMPIONSHIP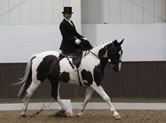 PHOTO BY EMMPIX
OPEN TO SSA MEMBERS ONLY
Entries open on the 15th of each month and close at midnight on the 14th of the following month.
Entries open for the first part of the series on 15th November and close on 14th December

Please click here to download VE Schedule
Please click here to download VE Rules
Please click here to download Hints & Tips
Please click here to download VE Points Champs
BEF COVID -19 update 5 November 2020 (POSTED 06/11/20)
Please click here for latest information from the BEF.
The SSA Writing Competition (POSTED 02/11/20)
Please click here to read one of the Highly Commended stories written by M Werrett from Area 16.
The Side Saddle Association Arena Eventing Challenge
The Arena Eventing Challenge will run from 1st November to 31st March each winter season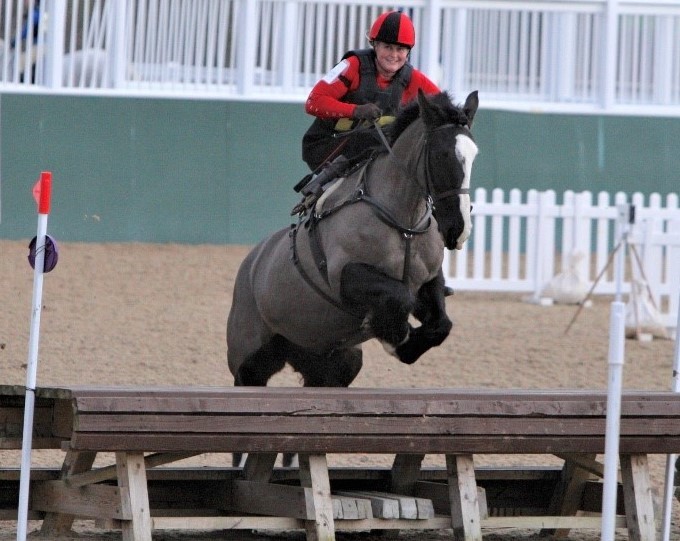 PHOTO BY EDWARD DANIELS

AIMS
• To open up side saddle riding to as many people as possible across as many disciplines as possible.
• To have a stand alone award for Members taking part in Arena Eventing, riding side saddle, points will be awarded for the completion of each event and the winner will be the horse/pony/rider combination with the most points.
PLEASE CLICK HERE FOR RULES AND DETAILS OF HOW TO REGISTER
The Side Saddle Association Cartoon Competition 2020
Open to Members only, no entry fee
A maximum of 2 entries per Member may be submitted, entries must be the work of the entrant
Each Side Saddle related cartoon should be submitted as an A4 size document, cartoons may be colour or black/white
The winner will receive a £25 voucher kindly sponsored by Side Saddles.
Entries should be sent by secretary@sidesaddleassociation.co.uk or post to Sally Lane, Hon. General Secretary, please supply your Name, Area and SSA Membership Number

CLOSING DATE 31ST DECEMBER 2020
The SSA Online Picture Show (POSTED 29/10/20)
Please click here to see Part 2 of the Championship Winners photos.
The SSA Writing Competition (POSTED 29/10/20)
Please click here to read one of the Highly Commended poems written by G Hardie from Area 1.
SSA AREA 19 COMPETITION TIME (POSTED 19/10/20)
Design your own Christmas card. It's been a crazy year thanks to Covid, but now's time to think of another c-word – CHRISTMAS! We're looking for your best side saddle picture to star on our SSA Area 19 Christmas Cards. They must be winter or Christmas themed. Photos/artwork must be taken/created by entrant and not subject to copyright. Who can enter: any Side Saddle Association member

How to enter: complete the entry form, pay £4/entry (Enter 3 pictures and the 4th one is free!) Email entry form and photos directly to entries secretary, pay entry fee by BACs – simple!
ENTRIES CLOSE: 30th OCTOBER 2020.
Winner announced: Monday 2nd November Winner receives 50 A5 Christmas cards featuring their picture
ENTRY FORM: https://ssaarea19.wordpress.com/local-side-saddle-events/
The SSA Online Picture Show (POSTED 19/10/20)
Please click here to see Part 1 of the Championship Winners photos, Part 2 to follow next week!
The SSA Writing Competition (POSTED 19/10/20)
Please click here to read one of the Highly Commended stories written by I Smart from Area 8.
BIRTHDAY LIST HONOUR FOR SSA PATRON (POSTED 19/10/20)
The Side Saddle Association Patron, Mrs Jane Holderness-Roddam was one of three of the Princess Royal's Ladies-in-Waiting to be honoured by The Queen in her delayed 2020 Birthday Honours List. Leonora, Countess of Lichfield, Araminta Ritchie, and Jane Holderness-Roddam all serve as Ladies-in-Waiting to Princess Anne, and have all been recognised for their efforts. The three ladies have each become Commanders of the Royal Victorian Order. The Royal Victorian Order is awarded to individuals who have personally served the monarch with distinction. It was created in April 1896 by Queen Victoria, who wished to formally recognise those who had personally served her. Recipients of the Royal Victorian Order are entirely in The Queen's gift and are bestowed independently of Downing Street.
The SSA Writing Competition (POSTED 12/10/20)
Please click here to read one of the Highly Commended poems written by L Graham from Area 12.
The SSA Online Picture Show (POSTED 12/10/20)
Please click here to see Part 2 of the winners photos, Championship Winners to follow next week!
The SSA Writing Competition (POSTED 05/10/20)
Please click here to read the third placed story written by D Parker from Area 12.
The SSA Online Picture Show (POSTED 05/10/20)
Please click here to see some of the winners photos, more to follow next week!
The Side Saddle Association Area 8 Portrait Show – by Belinda Wilkins. (POSTED 05/10/20)
Realising that the 2020 Festival of Horsemanship Side Saddle Area 8 Show was not going to happen, because of Covid 19 lockdown, I decided I would create the show using members' drawings calling it 'The SSA 8 Portrait Show'. It would feature riders from Sussex, Surrey and Kent. Soon the pictures were being sent to me. By making six different rings for classes I was able to put all the amazing drawings into suitable classes. Judges, stewards and spectators were added, plus lorries and other extras. Each time I thought I had finished another member asked to be included and space was found! This took hours and hours to create using Photoshop on my computer. The Portrait Show turned out way better than I could ever have imagined thanks to all who took part with so much detail just using coloured pencils. I really feel it captures a moment in history when everything came to a standstill, habits and costumes hanging unused in cupboards. Particularly special is the rainbow coloured habit in the Fancy Dress Class, honouring the work of the NHS and key workers.

Using the pictures I have also been able to create a picture of just horses and riders which also is a lovely design for tea towels and posters that I am selling, making lovely, original presents. Viewers have fun spotting people and horses they know, each one so carefully drawn! The key is a show catalogue naming all those featured. Profits from sales of these are going towards the National SSA Show 2021. £100 has already been raised. Orders for tea towels, posters and Banners can be made using order form or contact Belinda Wilkins email: festivalofhorsemanshipssa8@gmail.com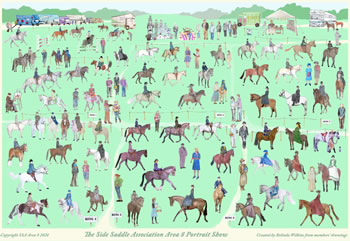 Please click here for the Order Form and Design Image (1) and Design Image (2)
A brief summary of the main discussion points from the recent meeting of the Showing Council can be viewed on their website - please see: http://theshowingcouncil.co.uk/news-item.asp?$=83&o=
The SSA Writing Competition
Please click here to read the second placed story written by J Pryor from Area 1.
THE SIDE SADDLE ASSOCIATION ONLINE PICTURE SHOW 2020
The results are out – please click here
The SSA Writing Competition
Please click here to read the second placed poem written by J Pryor from Area 1.
British Equestrian COVID -19 update 10 September 2020 (POSTED 14/09/20)
Please click here for latest information from British Equestrian.
The SSA Writing Competition
Please click here to read the winning story written by C Hobson from Area 8.
The SSA Writing Competition
Please click here to read the winning poem written by J Roberts from Area 8
The Windsor Autumn Showing Competition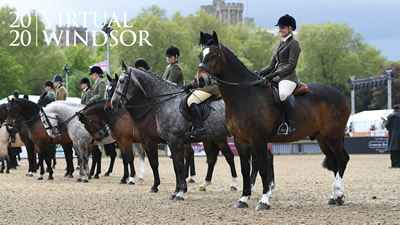 Entries are currently OPEN for The Virtual Windsor Autumn Series. The Online Showing is FREE to enter, and for the Autumn Series in September the classes range from traditional Show Horse and Pony classes, to Heavy Horse and Private Driving. (Please note, Class 18 is Side Saddle and includes a Best Costume award). All classes are free to enter, and are entered by uploading an image to the entries portal. Horses do not have to be registered with any breed society to compete. Entries are judged by a panel of renowned judges, presided over by Chief Judge Nigel Hollings, who has been judging at top levels worldwide for nearly four decades.
ENTRIES CLOSE ON 4th SEPTEMBER. Thank you to The Side Saddle Association for posting details relating to the show.
The Side Saddle Association Writing Competition
Thank you and well done to all entrants in the Writing Competition. We were very fortunate to have as its judge Carolyn Walters who as many of you will be aware is a panel judge, A instructor and examiner and former Side Saddle Association Rider of the Year. As a lecturer in Creative Writing and a playwright herself she was clearly extremely well qualified for the role. Entries were anonymised before being sent to Carolyn who was extremely complimentary about all of the entries.
The results were as follows.

Poem
1st May Hew See the Sunshine - J Roberts
2nd Horse Aged12 - J Pryor
Highly Commended: - L Graham & G Hardie

Story
1st and best overall entry
Marlowe's Pony - C Hobson
2nd The Lady on the Horse - J Pryor
3rd The Habit - D Parker
Highly Commended: - I Smart, M Werrett & B Wilkins

Winning entries will be published in future communications.
FLASH TO THE PAST THE TITLE SIDE SADDLE RIDER OF THE YEAR (POSTED 24/08/20)
This article covers Sue Turner (nee Bland) the 1980 * 1982 Saddle Rider of the Year winner. Please click here to read more
SSA ONLINE PICTURE SHOW ENTRIES CLOSE THIS WEEK (POSTED 10/08/20)
Only 4 days to go to get your entries in.
Open to all current SSA Members, just one entry fee and you can enter as many classes as you like.
In all classes, Competitors may claim points: 10 for 1st, 9 for 2nd, 8 for 3rd, 7 for 4th, 6 for 5th, 5 for 6th and 4 for completing the Class, regardless of placing. A memento will be given to the Adult and to the Junior with the highest points.

Entries close 14th August, online entries only, please click below to make your entry at My Riding Life: https://www.myridinglife.com/eventdetails.aspx?id=321168
FLASH TO THE PAST - THE TITLE SIDE SADDLE RIDER OF THE YEAR (POSTED 27/07/20)
This article covers Karen Lyles (nee Dudley) the 1979 Saddle Rider of the Year winner. Please click here to read more
THE SHOWING COUNCIL BLUEPRINT (POSTED 20/07/20)
The Showing Council's blueprint to help get everyone back showing has been agreed and circulated to all Member Bodies.
BEF COVID - 19 update 10 July 2020 (POSTED 12/07/20)
THE SIDE SADDLE ASSOCIATION NATIONAL PICTURE SHOW
(Posted 10/07/20)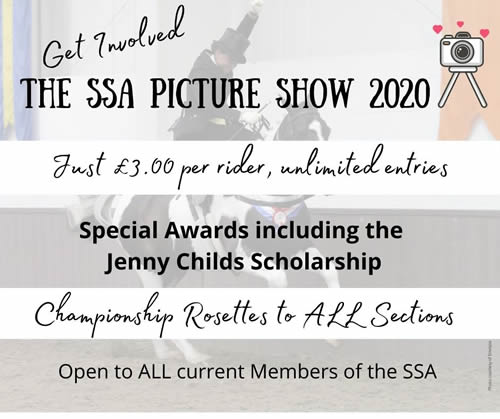 This show is open to all current SSA Members, just one entry fee and you can enter as many classes as you like.
If you have any queries please make contact by email to Lottie Parkin: area12treasurer@outlook.com
Please click here for the schedule
Online entries only, please click on the Logo below to make your entries via My Riding Life
BEF COVID -19 update 02 July 2020 (POSTED 03/07/20)
AREA 5 UPDATE (Posted 29/06/20)
The July 5th Pre Champ Show is cancelled.
On August 9th the Area will be running a clinic. Instructor: Vanessa Hood. Location: By kind invitation of Mrs K Byrd at Clifton Park Business Centre, Clifton Road, Stratford on Avon, CV37 8HW.More information and pre booking forms from Area 5 Interim Secretary, Mrs Maureen James. Social distancing measures will be in place. The Sheila Rowland Masters Show due to be held at Moreton Morrell on September 13th has been postponed until 2021.
BEF COVID - 19 update 26 June 2020 (POSTED 29/06/20)
BEF COVID -19 update 19 June 2020 (POSTED 22/06/20)
FLASH TO THE PAST - PAST WINNERS OF THE TITLE SIDE SADDLE RIDER OF THE YEAR (POSTED 22/06/20)
This article covers Jane Williams (nee Rackham) the 1978 Saddle Rider of the Year winner. Please click here to read more
WHY NOT JOIN THE SSA - (POSTED 15/06/20)
The Side Saddle Association is dedicated to promoting and protecting the skill, sport and education of riding side saddle. Originally formed as the Ladies Side Saddle Association in1974 by Valerie Francis and Janet Macdonald it has regional areas covering all of the United Kingdom as well as overseas members in many countries.

Through its clear systems and standards for riding, instructing and judging the Association seeks to maintain the highest levels of all aspects related to side saddle.

Members ride a significant range of types and breeds of horse and pony which are often in their second careers and take part in a wide variety of disciplines from showing to Arena Eventing and team chasing. The Association offers members a number of distinct classes including Equitation.

With the partial lifting of lockdown restrictions now allowing for some activity with horses for participants, coaches and venues many SSA Instructors are available for teaching again and Areas are looking at setting up clinics. If you have always wanted to try side saddle why not use this downtime to have a go. A list of SSA Instructors can be found on the Help & Advice page of the SSA Website and a list of Area Contacts on the Areas page.
STATEMENT FROM THE SHOWING COUNCIL (POSTED 15/06/20)
An additional meeting was held on Wednesday 10th June, at the request of some of the Member Bodies. The objective of this meeting was to allow Societies and Associations to get together and specifically discuss the creating a possible "operational blueprint" of how any kind of shows and events could take place, should they be allowed to, in the coming weeks or months, meeting all Government Guidelines. It was a very positive and helpful start to what could be a really supportive process and The Showing Council will continue to be there to help and assist these organisations in any way it can. The next steps are for those present to go back to their respective Boards and Councils and seek support to take this initiative forward. Some have already made that decision to work together on this area; we remain hopeful it will be supported widely.

It was recognised openly that a united approach to this challenge was important and that the competitor/ owner / producer / exhibitor / show secretary etc. should know what to expect if shows did go ahead at all. It was the intention a Working Group would form on the back of this meeting to begin to share information and develop a "blueprint".
FLASH TO THE PAST - PAST WINNERS OF THE TITLE SIDE SADDLE RIDER OF THE YEAR: (POSTED 08/06/20)
This first article covers Jo Bates (nee Morgan), the inaugural winner of the Side Saddle Rider of the Year title.
Please click here to read more
BEF COVID -19 update 1 June 2020 (POSTED 02/06/20)
POLISH SIDE SADDLE CHAMPIONSHIPS
The Polish Championship Show planned for 20 & 21 June 2020 has been cancelled, it is planned for the event to run in 2021.
BEF COVID -19 update 21 May 2020 (POSTED 22/05/20)
FLASH TO THE PAST - Marking the 30th Anniversary of the National Side Saddle Show (POSTED 18/05/20)
Thank you to Patricia Drake and Dale Atkinson for lifting this story from the archives. Please click here to read
A LITTLE DISTRACTION FROM THE LOCKDOWN NUMBER 2 (Posted 18/05/20)
Thank you to Bettina Keil, one of our Members from Germany for sharing these interesting links
A "half-english"side saddle - https://www.youtube.com/watch?v=M8NXfp7pLsw&t=3s
A traditional Spanish "Jamuga" - side saddle https://www.youtube.com/watch?v=t3P46Iny5kU&t=11s
BEF COVID-19 update 15 May 2020 (POSTED 15/05/20)
BEF COVID-19 Update 12 May 2020 (POSTED 13/05/20)
A FLASH TO THE PAST (POSTED 12/05/20)
In 1997 Sussex Lusitanos took a group of 40 members of the UK Side Saddle Association to visit the Lisbon Show. Five leading UK side saddle riders also went, taking their own saddles. They accepted a 5-day challenge to prepare and perform a short display on borrowed Lusitano horses at the Show. It was an impressive achievement, executed successfully and with style. It also paved the way for their return visit, the following year, to ride with at the 1998 Golega Fair.
The riders pictured below are Amanda James, Paula Keeley, Helen Lawson, Claire Lewis and Sherene Rahmatallah.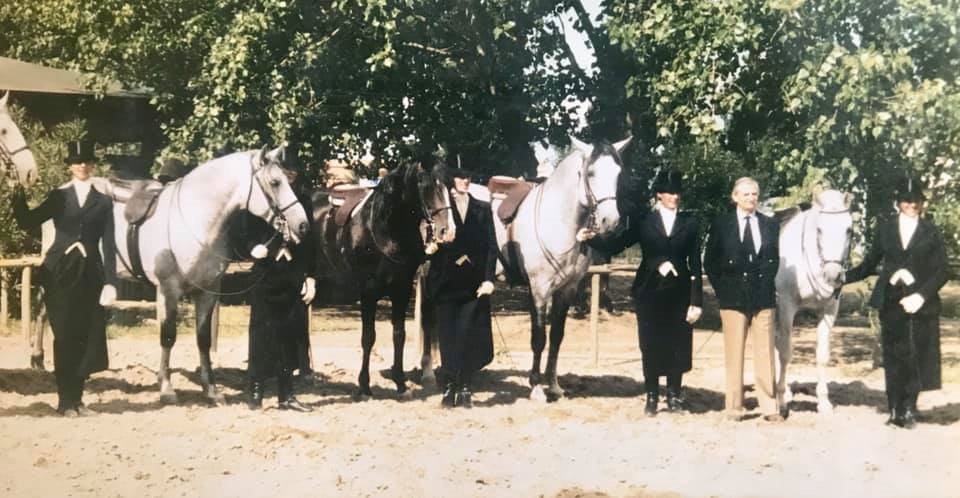 Article with kind permission of Sussex Lusitanos
Statement to SSA Members 29 April 2020
BEF Member Body Statement 28 April 2020
CANCELLATION OF THE NATIONAL SIDE SADDLE SHOW
7/8/9th AUGUST 2020
In the light of the present situation with Coronavirus the Side Saddle Association has made the difficult decision to cancel the 2020 National Show. It is incredibly disappointing for everyone who helps to organise and run the show, our sponsors, trade stand holders and for all the competitors, their friends and families.
Please note we have already booked Addington for 2021 The National Show which will take place on 6th, 7th and 8th August 2021.
A LITTLE DISTRACTION FROM THE LOCKDOWN: PORTRAIT OF A SIDE SADDLE FROM 1894
Thank you to Bettina Keil, one of our Members from Germany for sharing this interesting link giving a short portrait of a 1894 side saddle from J. M. Mayer, Munich https://youtu.be/qrQ7DqrZLug
British Equestrian Federation update 14 April 2020
British Equestrian Federation update 2 April 2020
British Equestrian Federation Vaccination update 2 April 2020
British Equestrian Federation Update 27.03.20
British Equestrian Federation Update 24.03.20 (Guidance on Care of Horses)
British Equestrian Federation Update 23.03.20
IMPORTANT UPDATE ON COVID – 19 STATEMENT
The Side Saddle Association take seriously their responsibility to contribute towards the containment and control of COVID-19 and fully support the Government recommendations around social distancing, non-essential travel and public gatherings. The Association therefore requests that no SSA activities take place until further notice. Issued 23/03/20.
INTERNATIONAL WEEKEND 2020
In light of uncertainties as to when equestrian activities will be able to safely resume in the UK the International Celebration Weekend has been postponed until 1st & 2nd May 2021. The SSA is grateful to Aintree for allowing the transfer of all outgoings made to date into the 2021 booking.
AREA 12 DISPLAY AT SOUTHWELL RACECOURSE 8th MARCH
"Members of Area 12 and Area 5 took part in a fantastic parade at Southwell Racecourse today as part of 'International Women's Day'. A highlight of the day was Sky Sports presenter, Hayley Moore, changing into a habit and top hat and parading with the Ladies, riding Hazel Allin's Ashton Flight. Hayley then dismounted and interviewed Hazel and all the riders which went out live to over 200,000 Sky viewers. The Ladies return on 5th May for the Countryside Evening. "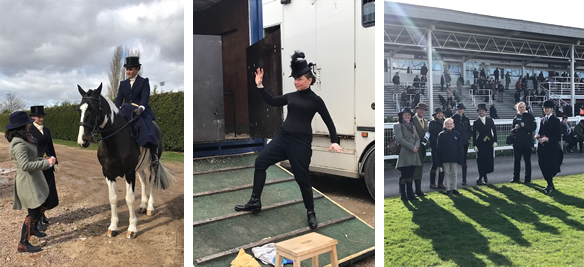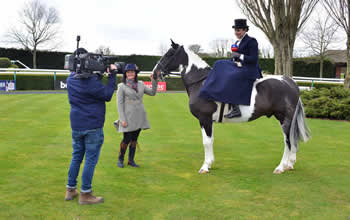 The Showing Council Volunteer Award 2019
As part of their annual awards The Showing Council has a category for The Volunteer of the Year Award with nominees put forward by the Member Bodies. For 2019 The Side Saddle Association nominated Cath Marchbank in recognition of her time as a long standing Area Chairman and her input to the SSA in general including Promotion Activities, Displays, Seminars, Grade Tests and Exams, Fund Raisers, Saddlers Days, the SSA National Show, Have a Go Days, Fundraising, Sponsorship, Hospitality, Meet and Greet as well selling raffle and tombola tickets and the list goes on and on. Cath was shortlisted and attended the recent presentations, sadly she did not win the award. Cath is pictured with her commemorative rosette.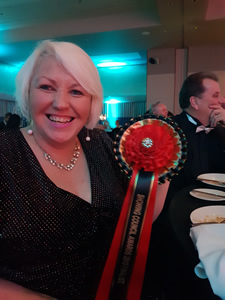 LIFETIVE ACHIEVEMENT AWARD
At The Society of Master Saddlers Presentations on Monday 3rd February 2020 Richard Godden was presented with a Lifetime Achievement Award for his outstanding services to side saddle training.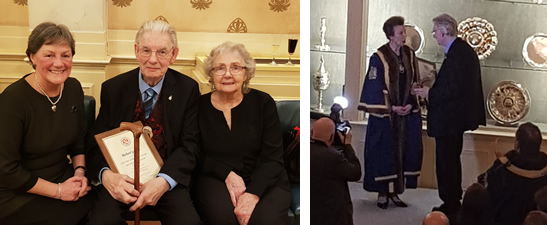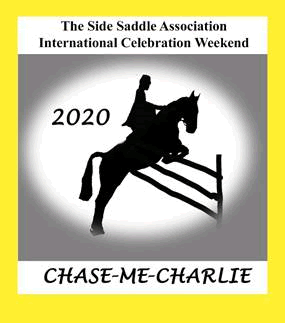 As part of the Gala Display on Saturday 2nd May 2020 there will be a "Chase Me Charlie" jumping competition with a first prize of £100 and the SSA High Jump Trophy; entry numbers will be limited. Click here to Download Information (PDF)
SSA Announce International Celebration Weekend Details
British Equestrian Federation Responds to EHV-1 Outbreak - correction
10 Jan 2020
The British Equestrian Federation responds to EHV-1 outbreak The British Equestrian Federation acknowledges the diagnosis of a case of Equine Herpes Virus (EHV-1) at an equestrian centre in Hampshire on 8 January 2020. The Federation supports the actions of the centre, who have ceased all activity, including cancelling shows and hire bookings, until further notice. The Animal Health Trust has issued advice stating that all horses who have recently visited the centre are immediately isolated for a period of 14 days and that owners seek veterinary advice regarding clinical monitoring and laboratory test clearance. EHV-1 is a contagious disease that can be spread through direct and indirect contact, with the virus surviving in the environment for several weeks. Clinical signs include a high temperature, coughing, nasal discharge, lethargy and loss of appetite. Severely affected animals can display neurological symptoms, and pregnant mares can also suddenly and unexpectantly miscarry their unborn foal.
The BEF recommends that owners remain vigilant for signs of the virus, maintain excellent biosecurity and consult with their vets if they are concerned
The Showing Council Unsung Hero of the Year
You are invited to nominate your "Unsung Hero of the Year"; someone who has gone out of their way to help you in 2019. Maybe someone drove out of their way to rescue you when your horsebox broke down, or gets up early every show morning to travel with you to shows as an unpaid groom?
Please send your nominations, together with a brief synopsis saying why you are nominating this person, and send to info@theshowingcouncil.co.uk
SYLVIA STANIER, L.V.O. (1928-2019)
It was with great sadness the Side Saddle Association learnt of the death of the renowned horsewoman Sylvia Stanier . A true horsewoman, Sylvia Stanier excelled in many fields of equestrianism, not least in side saddle riding. She rode H.M. Queen's 'Burmese' in training sessions and dress rehearsals for Trooping the Colour for which she was awarded the honour L.V.O. (Lieutenant of the Royal Victorian Order). Apart from her talents with horses of many types in a practical sense, she also wrote several books including a revised work of Mrs Houblon's Side Saddle, The Art of Lungeing, The Art of Long Reining and Classical Circus Equitation with H.J. Lijsen.

An early member of the Ladies Side Saddle Association, she hosted Annual General Meetings at her home and was a helpful and inspiring instructor, both in Great Britain and Ireland where she was based for many years. Her wisdom and knowledge of all things equestrian and side saddle will be greatly missed and sympathies go to her family and all her many friends.
The SSA Area 5 Committee invite you to raise a toast to our late President and dear friend Roger Philpot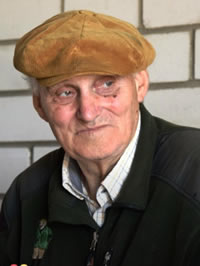 Saturday 3rd August 2019
Immediately before the Ride Off
The National Side Saddle Show
Addington Manor Equestrian Centre
AREA 5 PRE-CHAMPIONSHIP SHOW
Due to unforeseen circumstances Area 5 have had to change the venue of their Pre Championship Show on Saturday July 6th, the show will now be held at Clifford Chambers Business Park, Clifford Road, Stratford On Avon CV37 8 HW.
Side Saddle Association International Celebration Weekend 2-3 May 2020
An amazing international occasion, a weekend celebrating 45 years of The Side Saddle Association including Ridden Displays, Performances, Glamour and Sparkle Ball, International Seminar/Conference, Shopping Village, Saddlers' Corner, Aintree Racecourse and Museum tour and much more. Free Entry for spectators both days. Schedule and Programme will be published in 2020. Ball tickets on sale nearer the date. Overseas visitors most welcomed. Keep up with the news on our Facebook page - Side Saddle Association International Celebration Weekend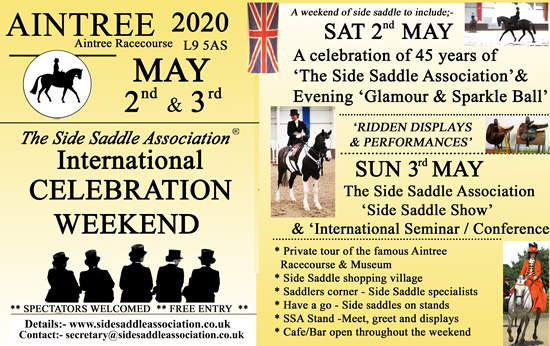 FREE SPIRIT HORSE MEMORIAL APPEAL
Back on 24th July 2016 a side saddle display was given by Area 12 Members to support fundraising for The Free Spirit Horse Memorial Appeal (FSHM). The event was sponsored by Laura Dempsey, a master saddler and maker of side saddles. Fund raising over the last few years culminated in the creation of a life-sized bronze statue acknowledging the horse's unfaltering service to mankind. "Free Spirit" was unveiled at the National Memorial Arboretum in Staffordshire on Sunday 19th May 2019.

The Side Saddle Association supported the Bradgate Park Trust at Bradgate Park, Leicestershire, on Saturday 18th May 2019 for their Old John Tower - Special Public Viewing Day.
The aim was to raise awareness of the story of Kitty Cox, wife of the 7th Earl of and nod to her love of horses and links with Old John Tower and especially with the racecourse they had built around the Tower at Hunts Hill.
Old John is the distinctive tower and arch overlooking Bradgate Park and is Leicestershire's most familiar landmark. The Folly stands some 690 feet above sea level and was built in 1784. It has commanding views across Leicestershire and surrounding counties. When a favourite family retainer was killed by a collapsing bonfire during birthday celebrations, the existing prospect tower was adopted as his memorial. The tower is only open as part of the Country Parks guided walks programme.
SSA Members  Leila Marvin, Emma Brown, Laura Elliot and Tanya Guest were joined by former member Kelle King to help promote the Tower being open and to raise awareness of the historical provenance of the racecourse around the Tower and support the launch of Bradgate Park loose leaf tea.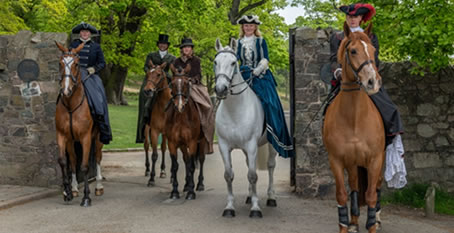 At 10:30 horses and riders made their way into the Park and towards Newtown Linford Car Park to the Conservatory Tearoom Garden for cup of tea and photo shoot to launch the new loose tea range....one is called The Rather Marvellous Kitty Cox.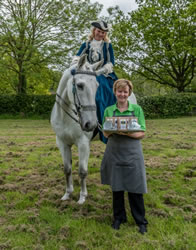 The riders then hacked on to the Visitor Centre before heading up to the Old John Tower at noon.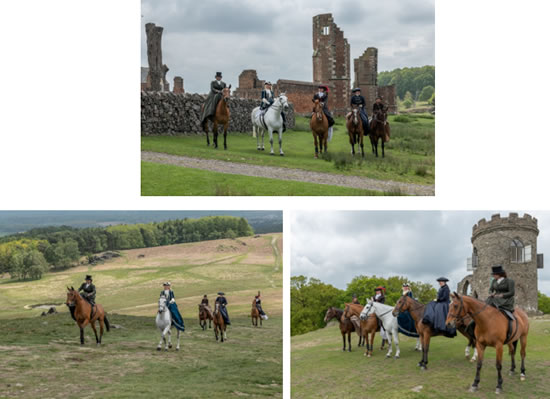 After a photoshoot the riders then headed on to the old racecourse where they enjoyed riding around the track with stunning views of the surrounding countryside.
PHOTOS BY KIND PERMISSION OF LEICESTER FOREST EAST PHOTOGRAPHERS
AREA 19 MEMBERS RIDE IN THE 500TH KIPLINGCOTES DERBY
Area 19 members Gill Greenwood and Sharon O'Rourke -Kilburn rode in the 500th Kiplingcotes Derby on the Yorkshire Wolds on 21/3/2019 and gained lots of media attention including a pre and post race interview with the BBC.

The race is a most surreal and ephemeral event. Indeed one of the organisers called it a 'Brigand' of a race , as when you arrive at this isolated stretch of road before 9am , there is nothing there , and at 2 pm again all has gone , except the wooden sign post , saying the Kiplingcotes Derby 1519 , England's oldest horse race and many hoof and foot prints .
Rules are few:
The race must be run on the 3rd Thursday in March.
All riders must be weighed in before 11 am.
The race must be run between 12noon and 2 pm.
The winner wins £50 and the second place receives the entry fees of everyone (£4.00) per horse.
Riders must not strike their opponents.
The race must be run every year or it will cease (so on the few occasions, like the snow in 1947, foot and mouth in 2001, a lone rider and their horse have ridden the course).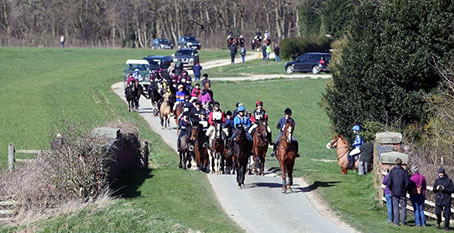 The weather this year was stunning, blue sky, warm with a little breeze with fantastic views across the Wolds; and you really could believe you were stepping back in time. Once everyone had arrived at the start it was s a fairly quick turnaround, a drop of the flag and the runners were off.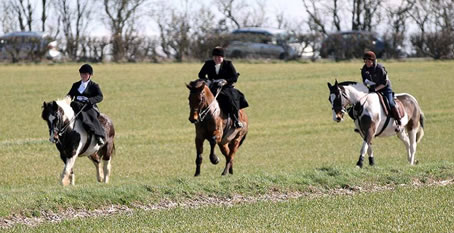 Gill said afterwards "We completed it, we were not last, both horses are safe and sound after the event and were complete heroes/heroines, they looked after us so well and were so well behaved".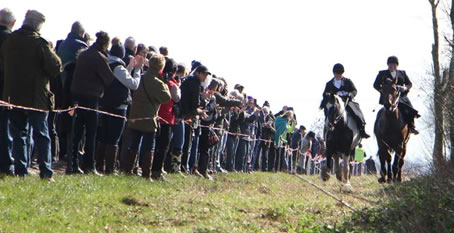 PHOTOS WITH KIND PERMISSION OF DAVID SHARP & ANNE CHAMBERS
The 2019 AGM was kindly hosted by Mrs Helena Hogarth at Hogarths Hotel, Solihull on Sunday 17th March.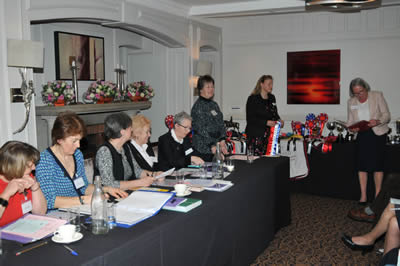 91 members and guests attended. After the formal meeting Patron Mrs. Holderness- Roddam presented the points Trophies from the 2018 National Show followed by the 2018 Performance Points  and SSA "Farriers Fortune" Hunting Buttons.

After a delicious lunch Area 4 Member Miss Philippa Kemp-Welch gave an excellent presentation
" Riding 140 miles in the land of the blue skies" which gave a fascinating insight into her experiences during  her recent BHS ride in Mongolia.
Many of you will be aware about 18 months ago Clarissa Dawson, long term Area 5 Member, Instructor and Examiner contacted a very rare form of leukaemia and tragically she lost her fight for life on Saturday 9th March.
Her funeral will be at 11am on Monday 1st April at the Oakley Wood Crematorium (North Chapel), Bishops Tachbrook, Leamington Spa, CV33 9QP, all are welcome. If you intend to attend could you please notify Clarissa's brother Geoff Dawson at gdawson@metronet.co.uk of your intended attendance, it would be a of considerable assistance in helping to assess numbers.
EQUINE FLU UPDATE MARCH 2019
The SSA advises all competitors to follow the guidelines issued by the British Equestrian Federation during the current equine flu outbreak: www.bef.co.uk
CONCOURS INTERNATIONAL D'EQUITATION EN AMAZONE JUNE 2019
Please click here for information about the show at Le Haras National du Pin in France in June 2019 including Programme. Timetable, Tests and Rules.
AREA 19 2017 PERFORMANCE POINTS WINNERS DAY OUT
The Area 19 Members (otherwise known as The Three Musketeers)  who were winners in the 2017 Performance Points awarded at the March 2018 AGM had a get together recently along with their newest member Sharon O'Rourke- Kilburn ( aka d'Artagnan ).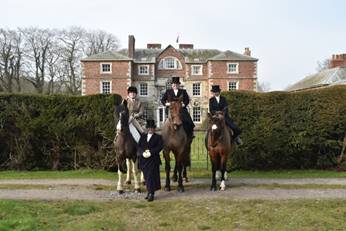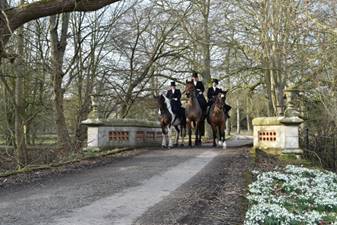 Gill Greenwood and Storm were Supreme Performance Champion and Adult, Dressage, Versatility and Age Aside Champion. Izzy and Danny Greenwood scooped Junior Champion and Junior Hunting Champion and Rosie 28 years young and Penny Sarginson took home the Newcomers Champion and 4th overall in the Adult section.
Penny was able to invite the winners to Boynton Hall near Bridlington by kind permission of Mr and Mrs Marriot, to have their photos taken at the amazing house whose origins go back to the time of William the Conqueror.
After the photo opportunity the members finished the day by riding around the estate and coming back over what they now call the snowdrop bridge.
Sharon O'Rourke - Kilburn's husband took the photos and was incredibly patient with some very needy side saddle ladies (and gent).
Quorn Hunt Opening 2018 Meet
Emma Brown gathered together side saddle hunting stalwarts and on foot supporters at the Quorn Opening meet to celebrate the late Roger Philpot's life and his love of hunting. All the riders were immaculately turned out and followed Roger's motto of "Kick On Girls " and in the case of Roger Edmunds "Kick on Boys"!


PHOTO KIND PERMISSION OF NICO MORGAN
With the on foot supporters wearing either flat caps or habits the pre meet get together in the horsebox park was a most sociable event with much reminiscing about Roger. People travelled from far and wide including Berkshire, Wales and Yorkshire with the biggest distance travelled accolade going to Berit Hoffman who flew out of Germany that morning looking resplendent in her habit. Pictured is Berit with Anne Dolbey Jones, Area 6 Chairman.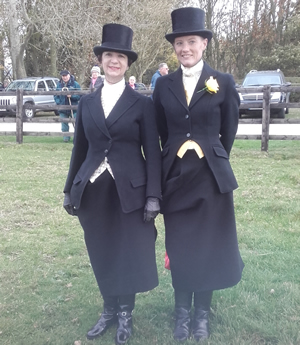 After joining the "Kick On Girls" at the Quorn Opening Meet on 26 October to celebrate the life of Roger Philpot and looking beautifully turned out and elegant Area 5 Member Jennie Daniels and Tilly the Cob proved their versatility and took part in Arena Eventing at the Dallas Burston Polo Ground on 28 October and won the prize for the best Halloween costume.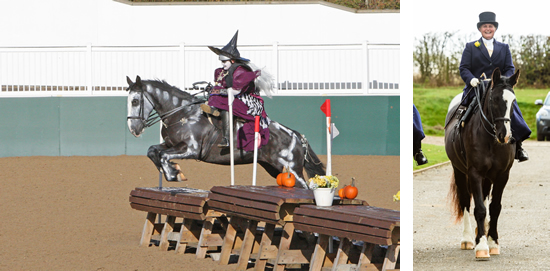 PHOTOS KIND PERMISSION OF NICO MORGAN & EDWARD DANIELS
Quorn Hunt Opening Meet Friday 26th October 2018
Emma Brown and her side saddle hunting stalwarts will be celebrating Roger Philpot's life by going hunting and following the motto "Kick On Girls " at the Quorn Opening Meet.
There will be bacon butties and tea /coffee in the Horsebox park from 9.15 am and there will be a photographer there to capture the gathering. Please come along and support the event and feel free to wear your habit or a flat cap in memory of Roger.
Further details are available from Emma Brown Tel: 07771 984823 Email: emmacb6969@yahoo.com (Please let Emma know in advance of your attendance to give the caterers an idea of numbers)
Europ'Amazones - June 2019
The President-Organizer of Europ'Amazone has circulated the message below:
Europ'Amazones cannot be cancelled 2 consecutive years! Preparing the competition for 22 & 23 June 2019, and on the principal that it's better to prevent than to cure, the organizer invites those considering participating to vaccinate their horses against rhino/equine herpes by following the following health protocol - first injection before end of September 2018 ; second injection 1 month later (= end October) and the third injection : 6 months later (i.e. end April 2019) which means they will be immunised in time for the competition. This is not obligatory but is strongly recommended.
AREA 6 GRADE TEST/ EXAM DAY
The Area 6 Grade Test/Exam Day planned for 30th September has been postponed until further notice.
FUNERAL ARRANGEMENTS FOR ROGER PHILPOT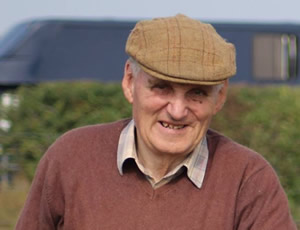 Dear All,
I have been requested by the family of Roger Philpot to make the following announcement.
The forthcoming funeral of Roger Philpot is to be a family affair only.
Originally the family had wanted to honour all Roger's friends in their wish to attend. However, the enormity of numbers coupled with the shock of losing Roger so unexpectedly is proving far too much for an event of this magnitude to be arranged in such a short time scale.
The family have been overwhelmed and taken great comfort in the messages of support that they have received from members of the Side Saddle Association who Roger gave so much of his time to.
There will be a "Celebration of Life" at a later date where the family hope that Roger's many friends will be able to join together to embrace the life of this truly remarkable man.
May I respectfully ask you to honour the families wishes for privacy at this time.
Any queries please contact me on my email address: ginnyoakley@yahoo.co.uk
With kindest regards,
Ginny
Ginny Oakley Pope SSA Area 5 Chairman
NATIONAL SHOW NEWSFLASH – 26TH JULY 2018
Class 6, Open Novice Dressage, the test that needs to be ridden is actually Nov 37a (2017) and not Nov 37 (2007). Carvery ticket sales for the Saturday night are still available for sale, please order online via the National Side Saddle Show website www.nationalsidesaddleshow.co.uk or contact the Show Organiser: Mrs Charlotte Excell-Outram, Show Organiser: Email: admin@nationalsidesaddleshow.co.uk Tel: 07713 167778
GENERAL DATA PROTECTION REGULATIONS (GDPR)
Members to enable the SSA to keep sending you information please return ASAP your MEMBERS OPT IN/CONSENT FORM WHICH WAS issued with your Spring Newsletter.
National Side Saddle Show 2018
Please note Full Members, Associate Members and Junior Members are eligible to enter and compete at the National Championship Show. Temporary membership is only available for non SSA members who wish to enter the HOYS class 75. Judge change: Classes 1, 5 and 8 will now be Judged by Mrs K Marsden.
CANCELLED - CONCOURS INTERNATIONAL D'EQUITATION EN AMAZONE
The event planned for 16 & 17 June 2018 at Le Haras National du Pin in France has been cancelled, the next event will be on 15 – 16 June 2019.
IF YOU ARE INTENDING TO COMPETE AT HARAS DU PIN ON 16 & 17 JUNE PLEASE NOTE THE INFORMATION BELOW:
Equine flu vaccination is obligatory in France and passports showing up to date vaccinations must be shown for checking before the horses are unloaded (as on entry forms). Temperature may be taken. There have been cases of rhinopneumonie in the region so vaccination against this is advised, but is not obligatory, for the competition. As it is 7 weeks to the event, if people wish to have this vaccination for their horses they do have time to have both injections done (4 weeks apart).
More information can be found on the following link: https://www.ouest-france.fr/normandie/saint-lo-50000/concours-equestre-saint-lo-un-protocole-contre-l-epidemie-d-herpes-equin-5731415
URGENT MESSAGE FOR MEMBERS OPTING FOR ONLINE CORRESPONDENCE
Due to the impending General Data Protection Regulation 2018 (GDPR) some email account providers have set a limit on how many emails can be sent in one batch within an email account and also how many emails can be included in the bcc section of the emails. This has a major impact on how the SSA send out information to those members who have opted for online discount. The Spring Newsletter, National Show Schedule and other documents have been emailed out on 8th May 2018, however a large number of email addresses have rejected the emails. The Association is urgently looking at how best to solve the problem but this may take some time so in the meantime all documents can be found on the Members Only Section on the SSA website.
S.S.A Member Parades at The Cheltenham Festival
Area 5 Member Lizzie Harris took part in the Retraining of Racehorses Parade on the opening day of the Cheltenham riding Wild West who had been in training with Jonjo O'Neil.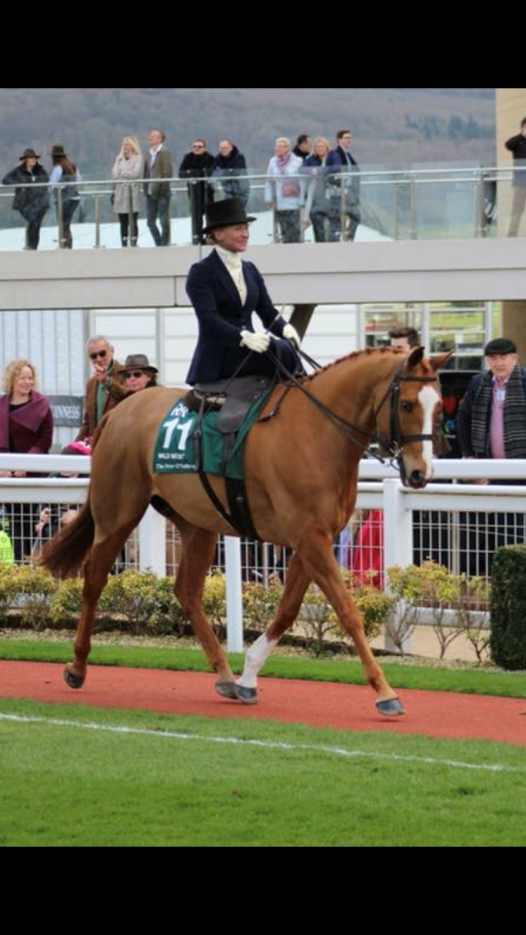 PHOTO BY SOPHIE PETTIT
The Southdown & Eridge Side Saddle Dash at Godstone, Surrey On 15 April 2018
Side Saddle Dash 7 April 2018
2018 ANNUAL GENERAL MEETING
The 43rd Annual General Meeting of The Side Saddle Association was held on Sunday 18th March 2018, at Hogarths Hotel, Dorridge, Solihull by kind permission of Helena Hogarth. 62 intrepid members made it through the inclement weather having travelled far and wide form across the corners of the UK.
Area 4 Member Wins Saddlery Competition
The Society of Master Saddlers held its annual saddlery competition on Monday the 5th of February 2018, at Saddlers' Hall, London. The side saddle class comprised of 6 entries and the worthy winner was Coralie Chung, an Area 4 Member from Newmarket. Coralie is pictured with her winning saddle and also at the presentation of awards with S.S.A. President, Mr. Roger.Philpot.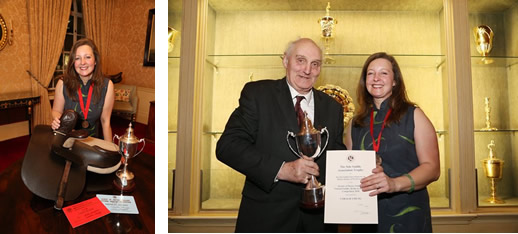 Jane Harper Wins at Olympia
Congratulations to Area 5 member, Jane Harper, who won the Ridden Veteran Championship at the Olympia Horse Show riding her own Crimewave.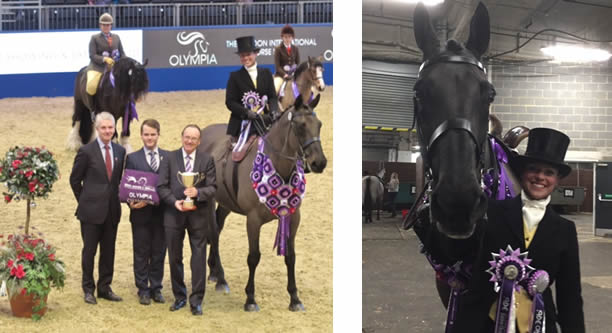 The Side Saddle Association - Rider of the Year Format
The Side Saddle Association is committed to ensuring the health, safety and welfare of all those who are affected by the activities of the S.S.A. and continually strives to meet its obligations in terms of horse welfare and rider safety in line with other leading equestrian bodies.

Over the last 30 years Equestrian Science, Technology and Information have been drastically developed and progressed, for example in the interest of horse and rider welfare, safety standards have been improved over the years. It is paramount that the S.S.A. continues to progress forward along with the other equestrian disciplines.

At the October 2017 meeting Council discussed the format of awarding the Adult Rider of the Year title at the National Show. It was decided that the scoring format followed in 2017 would remain the same for 2018, but there would be some changes to the performance immediately prior to the announcement of the winner whereby the top four riders will be invited to showcase their skills following a set programme.

Further discussion will take place at the February 2018 Council Meeting and a shortlist of formats will be drawn up; later in the year all Members will be invited to vote on which format they would like to see implemented to determine the Rider of the Year in 2019 and beyond.
AREA 11 JUNIOR MEMBER AT THE FRODSHAM CHRISTMAS FESTIVAL
Jana Carney is pictured riding her magical Unicorn 'Jacko' at the Frodsham Christmas Festival.
Click here for more information
THE POLISH SIDE SADDLE CHAMPIONSHIP 2017
The International Side Saddle Show and 13th Polish Championship took place on 7th and 8th October 2017 in Janow Podlaski Arabian Stud, which situated is in east part of Poland. 16 riders competed in different classes. Click here for more information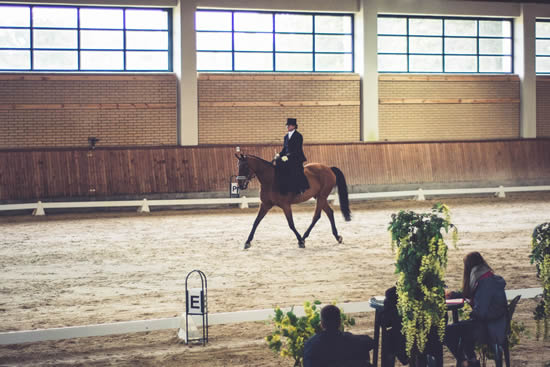 THE INTREPID TRIO FROM AREA 19 TAKE PART IN ENDURANCE AND HUNT RIDES IN EAST/NORTH YORKSHIRE
Gill Greenwood, her son Danny and fellow Area 19 member Penny Sarginson have had a busy summer out and about side saddle. Click here to find out more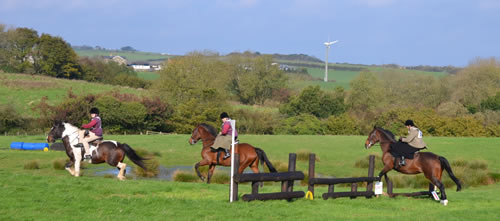 BIT ON THE SIDE AT BLENHEIM
The Bit on the Side display team gave their usual entertaining display at the Blenheim Trials. Click here for more information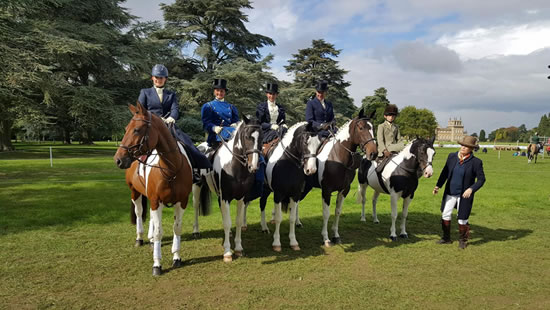 DIANAS OF THE CHASE QUALIFIER
The Quorn Hunt are holding a Dianas of the Chase Qualifier at their Hunter Trials on 8th October.
Click here for more information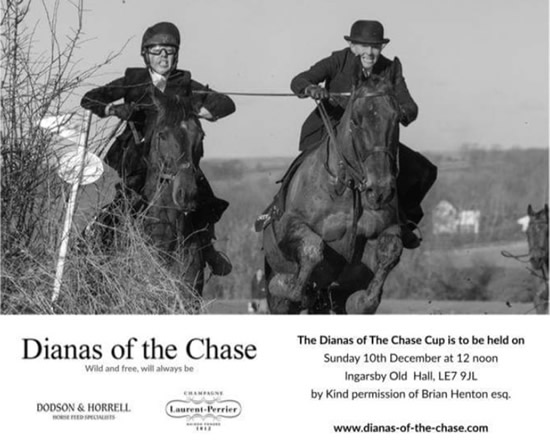 | | | |
| --- | --- | --- |
| | | Area 4 has had an active summer of events including displays at Palace House, Newmarket, home of The National Heritage Centre of Horseracing and Sporting Art. |
SIDE SADDLE DISPLAY AT CHATSWORTH COUNTRY FAIR
Areas 11 & 12 joined forces over the weekend of 2nd & 3rd September 2017 to give two excellent displays in the delightful landscape of Chatsworth House, Derbyshire.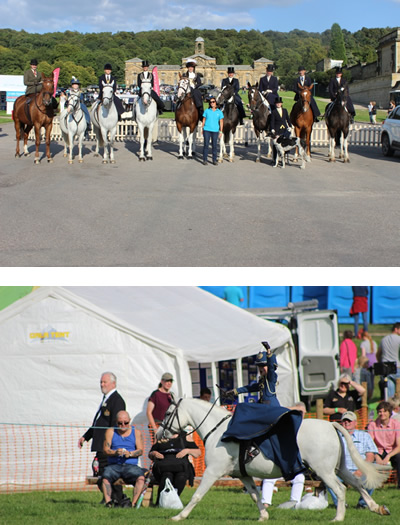 LAUREN ALLIN WINS RIDER OF THE YEAR 2017
Congratulations to Lauren from Area 12 for taking home the Rider of the Year Accolade for 2017.
Click here for Lauren's story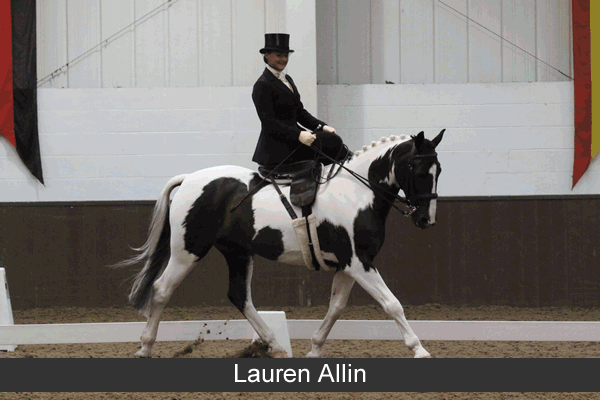 SOCIAL MEADIA POLICY REMINDER
As you are aware the Side Saddle Association (S.S.A.) introduced a Social Media Policy in 2017 (see 2017 Handbook page 2) and after some recent events it is felt pertinent to remind Members of the S.S.A.'s expectations in relation to the use of social media.
The S.S.A. recognises the importance of the internet and various social media sites and the role which social media plays in the lives of people, albeit some more than others. Whilst it is recognised that the S.S.A. cannot and has no desire to control posts made on a Member's personal page, they can and indeed will, within the confines of the Social Media Policy, react to any post that is deemed to be offensive, defamatory, threatening, unseemly or damaging to the name of the S.S.A. or any of its Members.
As a S.S.A. Member, National Officer, Area Officer, Instructor or Judge, you should not post any information or comments which may be perceived to be derogatory, prejudicial or detrimental to the reputation and interests of the Association or its Members, or that may be attributed as being the opinion of the Association whether this be at Area or National level.
Please be mindful of the spirit of the S.S.A. and conduct your use of social media accordingly.
5th July 2017
A DAY OF SIDE SADDLE COMPETITION WITH A DIFFERENCE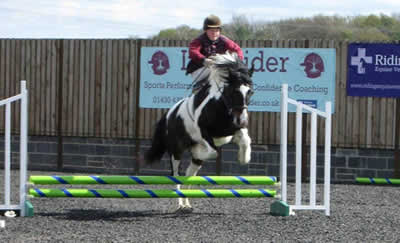 Manor Grange Stud Show Centre's Annual SSA fundraiser 'A Day of Side Saddle Competition with a Differences held on 15/04/17. Seven pairs competed in the Day with a Difference competition, which spanned dressage, showjumping, barrel racing, Champagne Challenge and a Versatile Horse course. Both team members rode a dressage test and jumped (over poles on the ground for some newer combinations and veteran horses), while each team could play to their strengths and put their most suitable horse up for the remaining sections.
The Southdown and Eridge Hunt Inaugural Side Saddle Dash
The Southdown and Eridge Hunt Inaugural Side Saddle Dash was held at their Point to Point on Sunday 9th April 2017 at Godstone in Surrey. In addition Area 8 Members gave a display which included traditional and historical costumes. The dash was run over a distance of approximately 7 furlongs and the winner was Chloe Gunn from Area 12.
Dexter's Latest Adventures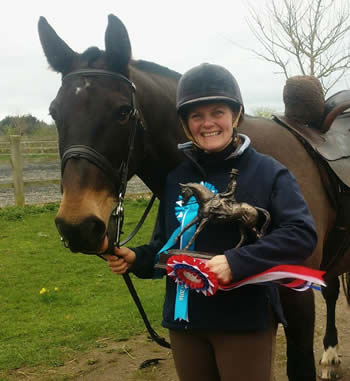 Darkly Dreaming Dexter from Area 5 was delighted to win the Side Saddles Performance Points Best Gelding at the S.S.A. AGM and posed with his trophy for his fans. To read more about Dexter please click here.
| | |
| --- | --- |
| Following the retirement of Mrs. R. N. James as President after 10 years in office we are pleased to welcome Mr. R.L. Philpot as President of the Side Saddle Association from 1st April 2017. | |
Members will be saddened to learn of the death of the Association's Vice President, Valerie Millwood, on 23rd March 2017.
Born into a family of Funeral Directors in London, she was brought up with horses, as the firm specialised in providing horse drawn hearses drawn by black horses with plumes.   Taught and mentored by the late, great Count Robert Orssich, considered to be the finest and most elegant horseman in the show ring, Valerie became very well known producing and showing hacks, cobs, ponies and arabs in the 50s, 60s and 70s. 
Valerie specialised in teaching side saddle when the art was in decline (before the formation of the Association) and produced many displays and musical rides in costume featuring side saddle riders.   She won the Riding School Teams class at the Richmond Horse Show in the mid 50s, all three riding side saddle, she flanked by her two small pupils, the Slater-Hunt sisters.  She once said winning that class probably gave her the greatest pleasure of her showing career.
Valerie was one of the first to join the Association in 1974, and has been involved with it in many ways since then.   She served as Area 8 Chairman for a record 21 years and was well known for running a tight ship, no small detail ever escaped her.   Her Area 8 Christmas lunches and AGMs were always very social occasions, and a great dog lover herself, the dog shows held at her house in aid of the Area were always well attended and the greatest fun for canines and humans.
It was through Valerie that the Association were invited to stage Invitation Showjumping and Concours d'Elegance classes in the main ring at the Windsor Horse Trials, where for many years our Members were able to compete.   In addition, she also persuaded Hickstead to put on a Costume Concours d' Elegance class and the Horse of the Year Show to re-introduce Ladies Hunters to their programme.
Valerie was a judge on many equestrian panels including Ponies UK, The Arab Horse Society, National Pony Society, and the British Show Hack, Cob & Riding Horse Association (now The British Show Horse Association) of which she was made President in 1998 and on her retirement, a Vice-President.
Valerie was an instructor of the art of side saddle par excellence, the number of successful riders she taught are countless and include several Riders of the Year and Junior Riders of the Year.  She was always very generous with her time and knowledge and is in no small part responsible for setting the standards whereby the Association is held in high regard within the showing world.

The Association sends condolences to her family and to Thea.
MJ
Please note the Area 5 Grade Test/ Exam Day planned for July 2017 will not be taking place.
THE SIDE SADDLE ASSOCIATION AGM
SIDE SADDLE DASH 12TH MARCH 2017
The Bicester with Whaddon Chase Point to Point at Whitfield Racecourse, Brackley, on Sunday 12th March was the setting for a Ladies Side Saddle Dash.
The National Equine Forum 2017
The National Equine Forum was held on 9th March 2017 and this year Government officials, vets and equestrian industry leaders shared their knowledge and drove debate on some of today's most pertinent equestrian matters. In the lively topical slots the impact of Business Rates were assessed, the impact of the growing threats of strangles and Equine Herpes Virus were discussed and the replacement to the Horserace Betting Levy examined. Also hot off the press the Thoroughbred Health Network was formally launched as a UK-wide initiative. In addition the programme included Brexit's potential impact on the horse industry, the central equine database, tack, bits and welfare, and Changing Lives through Horses.
We are delighted to announce that our President Mrs. Maureen. James was joint runner up in the prestigious Colin Spedding Award.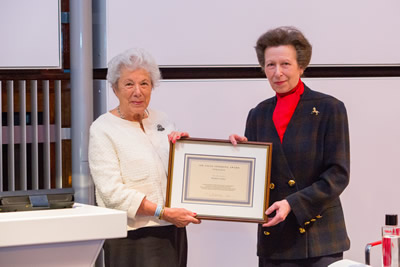 Sir Colin Spedding was the founding chairman of the NEF and chaired the event for 20 years until shortly before his death in 2012. He ensured that representatives of all areas of the equine sphere were made welcome to the Forum and that topics of general interest and concern could be discussed openly and without rancour. His aim was to allow the equine world to consider and then speak with a coordinated voice on matters of the moment. The award was introduced in 2013, in his memory. 
The award is presented annually to an outstanding and as yet unrecognised individual or organisation that has made an important contribution to the equestrian world. The three nominees for the 2017 award were fire and rescue expert Jim Green, side-saddle authority Maureen James and equine veterinary nurse Bonny Millar. The winner was Jim Green.
Photos by kind permission of The National Equine Forum and Craig Payne Photography.
SMS NATIONAL SADDLERY COMPETITION
The Society of Master Saddlers held its annual saddlery competition on Tuesday the 7th of February 2017, at Saddlers' Hall, London. Class 11 was a Side Saddle made on a new tree or completely refurbished old tree, to include the stirrup leather (no iron) . the criteria was that it must be all leather with a serge panel or Wickham pad and must be the sole work of the entrant. Entries were judged on quality of craftsmanship and suitability for purpose. There were six entries and the top three placings were as follows: 1st prize Sue Slade, 2nd Helen Reader and 3rd Coralie Chung and the SSA trophy went to Sue Slade. Congratulations to Sue on her win and to the other placed competitors too, all of the top three are Side Saddle Association Members.
CHRISTMAS CAROL HUNT RIDE

Photo Courtesy of Dr Susan Hills
Area 19 Members Gill and Danny Greenwood joined their local hunt just before Christmas for A Christmas Carol Ride. The ride was for 3 hours around the Staintondale country and raised over £400 for the air ambulance.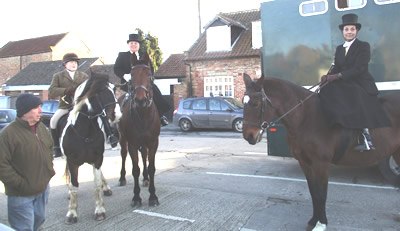 Photo Courtesy of Herald and Gazette
Area 19 members Gill Greenwood , her son Danny and fellow member Penny Sarginson went to the Boxing Day meet at Malton with the Middleton Hunt.
SSA Area 8 New Year's Party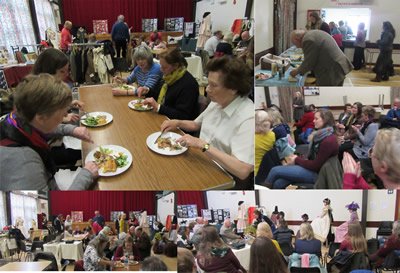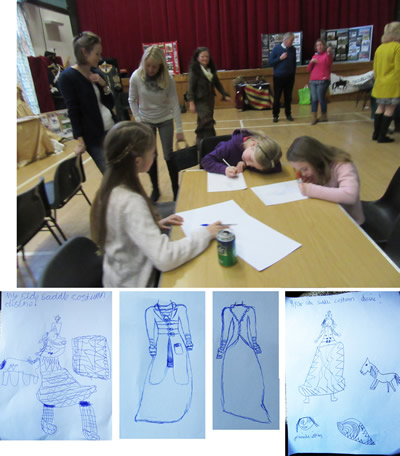 The social event included a film show by Belinda Wilkins showing side saddle activities in the area, this year the theme was newcomers, juniors and hunting. In addition Rayna Matthew's gave a talk on the 'Magic of Costume' which was amazing. Please click here for more information.
Both the Bicester & Whaddon Chase and Southdown & Eridge Point to points are holding Side Saddle Dashes this year. For more information see the Events Diary.
Correctly secured Skull Caps/Riding Hats that meet one of the following Current Safety Standards MUST be worn by all Junior Riders and Adults where indicated in the competition rules: All PAS 015; VG1; ASTM F1163 04a onwards; SNELL E2001; AS/NZS 3838 2003 onwards. In addition the new BS/EN standard will be allowed, once approved with the finalised number being advised in due course. Please note that from the 1st January 2017 the list of standards no longer includes BS/EN1384: 1996 or 2012 (or prior year suffix). The new European standard will be allowed once finalised and will be advised in due course.
S.S.A. PRESIDENT SHORTLISTED FOR PRESTIGIOUS NATIONAL EQUESTRIAN AWARD
The Side Saddle Association President Mrs Maureen James has been shortlisted as one of the final three for the Sir Colin Spedding Award 2017.

The winner will be announced at the British Equine Forum in London on March 2nd.The Side Saddle Association are very proud that Maureen's achievements over many years have been recognised in this way and wish her luck at the presentation next March.
Area 6 Member and Junior Novice and Young Rider Champion 2015, Seren James, has now achieved fame on the cover of Horse and Hound dated November 24th 2016 www.horseandhound.co.uk. 

Shown astride on her new pony Zebedee, they are taking a hedge when out with the South Pembrokeshire.  Zebedee is clearly aptly named and was bred by Seren's Grandmother, Val Rees, who is a long standing SSA member."
 
Seren is pictured right on her way to victory in the Junior Novice and Young Rider Championship. 2015 (Photo courtesy of Emmpix)
Haddon Training is an Ofsted Grade 1 "Outstanding" training provider that deliver 100% work-based Horse Care Apprenticeships at Level 2 and 3. The apprenticeships are fully Government funded educational programmes for 16-23 year olds who meet the eligibility criteria. For employers, Apprenticeships are a great way to train your staff to your standards! Depending on your location, you could be eligible to apply for Government AGE Grant of up to £2,000 to help you employ an Apprentice. For further information, please click here.
www.haddontraining.co.uk
International Side Saddle Show & Polish Championship
The Polish Side Saddle Championships combined with an International Side Saddle Competition took place on the 1st and 2nd of October in Lewada Zakrzów. Side-saddle riding in Poland has been growing in numbers over the last decade, and 24 riders from three countries ( Great Britain, Czech Republic and Poland)  took part in the event. The two-day competition consisted of 16 tests . 
Virginia Bulawa – Dziarmaga  Polish Jumping Champion (left) and Aleksandra Adamczyk Polish Dressage Champion (photo Rozalia Bachula)
Visit to The Museum of The Horse
Sixteen members and guests visited the Museum of the Horse and Sally Mitchell Gallery at Tuxford in Nottinghamshire  on Sunday 9th October 2016.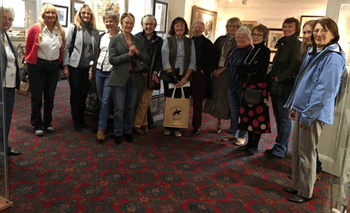 A private tour of the museum with the founder, Sally Mitchell, was greatly enjoyed by all. The tour was both very informative and interesting and time sped by. At the end of the tour the party moved next door to the Chilli Petals Café  where they enjoyed a sumptuous afternoon tea.
AUSTRALIA – Wendy Tidbold "the last of their kind"
Wendy Tidbold, one of the SSA's Worldwide Contacts from the Queensland Side Saddle Interest Group has recently featured in an article in the Australian Women's Weekly titled The Last of Their Kind. The article focuses on Wendy's work as a saddler. Click here to find out more.
HORSE OF THE YEAR SHOW – LADIES SIDE SADDLE HORSE OF THE YEAR CHAMPIONSHIP
Congratulations to Esther Rostron, the 2016 Side Saddle Rider of the Year who was second in the Ladies Side Saddle Horse of the Year Championship. Esther was riding Seabourne Silent Valley owned by Mr Garry Merton. The class was won by Jayne Ross riding Hello Dolly.
2016 Total Impact Ladies Show Horse Championship
Congratulations to Georgina Steele from Area 8 who won the 2016 Total Impact Ladies Show Horse Championship riding Colbeach Mark of Distinction.
FREE SPIRIT HORSE MEMORIAL APPEAL
The 24th July 2016 saw A side saddle display in support of The Free Spirit Horse Memorial Appeal (FSHM). The event was sponsored by Laura Dempsey, a master saddler and maker of side saddles. The display consisted of three superbly presented horses and their riders: Rachael Barker, Kirsty Heathcote and Amanda Chatfield with commentary provided by Lottie Parkin.
The team provided a hugely enjoyable and informative display. Also present on the day were Ambassador Tiffany to Miss Lichfield, Councillor David Salter and Peter Armitage from Royal Mail. A cheque for £2,000 was donated by Caldecott Riding School and Laura Evans. Laura wanted to fund raise in memory of a beloved Pony 'Jack' from Caldecott riding school who sadly had to be put to sleep earlier this year. Laura completed a sponsored jump and individually raised £250. Laura said 'Just knowing a horse is life changing, we need to remember their lives'. 'Horses mean the world to me and need to be remembered'. Many thanks to those who supported the event; we raised a further £1075 towards the FSHM.
WANTED: National Side Saddle Show Organiser
The 2016 Side Saddle Riders of the Year
For many Members, the Side Saddle Rider of the Year Title, achieved by qualifying throughout the year and competing in the relevant classes at the National Side Saddle Show is the ultimate aim and pinnacle of their season.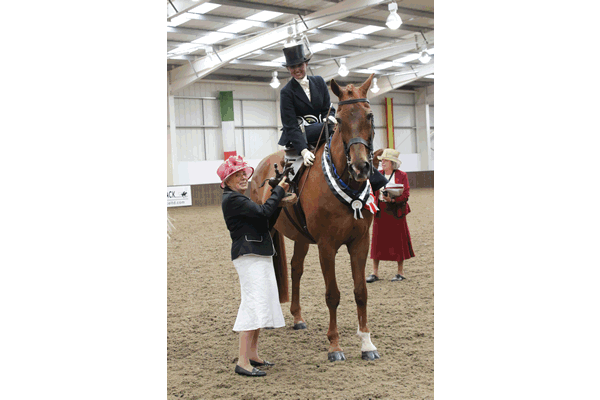 The Adult Side Saddle Rider of the Year – Esther Rostron riding Mrs J Birkby's Kyano
Reserve Adult Side Saddle Rider of the Year - Lauren Allin riding Mrs Hazel Allin's Ashton Flight
3rd – Carolyn Walters
4th – Chloe Gunn
The Adult Amateur Champion - Esther Rostron
The Horse of the Year - Kyano
The Adult Intermediate Side Saddle Rider of the Year – Amelia Bevan riding her own Rougemont.
Reserve – Laura Gray
The Adult Novice Side Saddle Rider of the Year – Rachael Forkings riding her own Parry Lad
Reserve – Pippa Booth
The Junior Open Side Saddle Rider of the Year – Mary Goodridge riding Ms A Torode's Waverhead Ted
Reserve – Ellie Ironmonger
The Junior Novice & Junior Novice Young Rider Side Saddle Rider of the Year – Violet Barton riding Mrs J Barton's My Last Bob
Reserve - Harriett Birkby
Saddlers Side Saddle Fitting Training Workshop 19th September 2016
Area 9 Grade Test/ Exam Day
Please note the Area 9 Grade test/Exam day set for 19th August 2016 has been cancelled, it is hoped it can be rescheduled next year.
Area 5 – Take part in the "Park Life At Compton Verney Weekend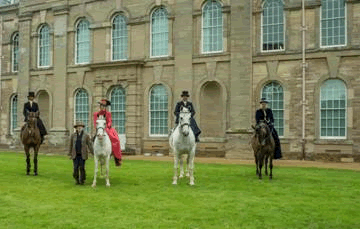 Area 5 were honoured to be asked to put on a display at the beautiful Compton Verney in Warwickshire on 25th June 2016. Compton Verney is an independent national art gallery and a 120 acre 'Capability' Brown landscape located nine miles from Stratford-upon-Avon.
Social Event at The Museum of The Horse
You are invited to join us at an Autumn Social Event On: Sunday 9th October 2016 commencing at 1.30pm At: The Museum of The Horse/Sally Mitchell Gallery, Market Place, Tuxford, Nottinghamshire NG22 0LA.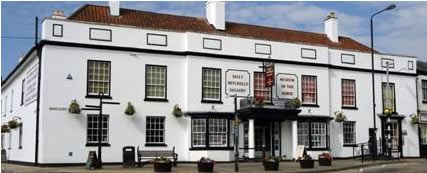 DOWNLOAD INFORMATION HERE
DOWNLOAD MUSEUM OF HORSE HERE
DOWNLOAD BOOKING FORM HERE
Area 4 were blessed with near perfect weather at their recent annual Summer Show and Garden Party where a surprise presentation was made to the S.S.A. President Mrs. R. N. James.
Good luck to the British Team
Good luck to the British Team who will be competing at EUROP' AMAZONES 2016, the International French Side Saddle Show on 18th and 19th June. The team comprises of Claire Lewis, Sarah Hislam, Paula Keeley, Julia Izzard, Kathleen Botting, Rachel Lambert and for her first time Junior Member Lily Williams-Musitano.
Area 5 had an action packed PR programme for the first weekend in June. Friday night, 3rd June, saw a display with six riders and horses/ponies for the newly formed Milton Keynes Riding Club, Saturday saw five different riders displaying at the Kenilworth Show in two separate displays in the Main Arena and then three riders from the Friday night display were joined by three Members from Area 12, to give a display in the Main Arena at The Rutland County Show and then later in a smaller arena.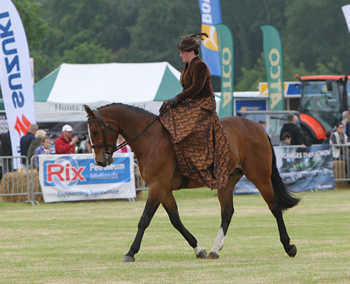 SSA Member Jane Bird wins veteran section at Hertfordshire County Show
Jane Bird of Area 5 rode her horse Norman Jennings (aka Storm) side saddle in the Veteran Classes at the recent Hertfordshire Show. Storm came first in his age group and second in the Championship Senior Horse.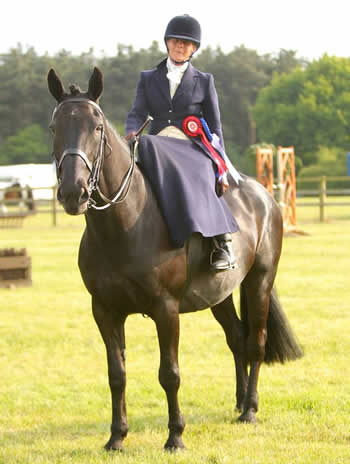 Finish Line: Area 12 Are Tough Mudders!
Five Committee Members from Area 12 (Zoe Bateson, Sally McKenna, Mary Tonks, Kerry Harrison and Alex Molesworth St Aubyn) and a friend called Adam! took part in the "Tough Mudder Half" at Belvoir Castle on 14th May 2016 to raise funds for Area 12.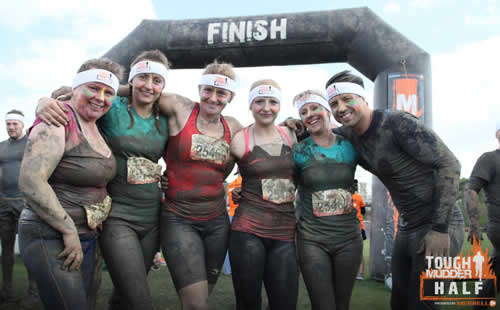 National & Regional Side Saddle News & Reports
The German Side Saddle Derby, Aachen, 2016
The German Side Saddle Derby tentatively planned for September 2016 has been postponed to 2017. Further information will follow in due course.
SSA Show Affiliation Officer Required
The Side Saddle Association is seeking a Show Affiliation Officer to commence duties on 1st October 2016
SSA Area 5 Judges & Instructors Seminar
On Saturday 16th April Area 5 held a Judges and Instructors Seminar at Moreton Morrell College in Warwickshire. The focus of the Seminar was an interactive day looking at how the rider can affect the side saddle and how the side saddle affects the horse and the rider depending on its fitting.
On Saturday 23rd April 2016 Side Saddle Association Members Bruce Langley-McKim (Area12) and Victoria Nicholls (Area 5) took part in the foxhunter section of the new Silver Spur Hunt Race
Area 4 have had an active start to the 2016 season with a St George's Day Tea Party to celebrate HM Queen Elizabeth's 90th Birthday, a Clinic plus a Teach-In and Qualifier with lots more events planned.
Click here for more Tea Party information - Click here for Area 4 Activities
SSA Members Lead in The Winner of the Topham Chase at Aintree
Morgan Schive from Area 8 and Amy Bryan-Dowell from Area 11,led in the Topham Chase winner Eastlake, ridden by Barry Geraghty on the Thursday of the recent Grand National meeting.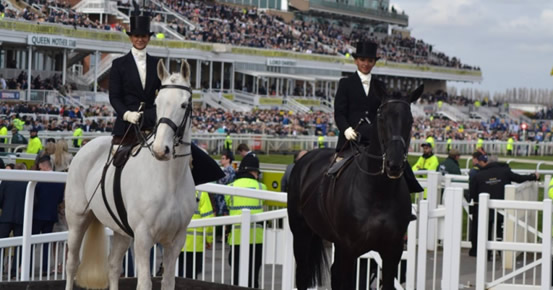 Click here for more information
Area 11: The Grand National Horse Catching Team
Area 11 was proud to be invited as horse catchers at the three day Grand National Meeting at Aintree culminating with the great race itself on 9th April.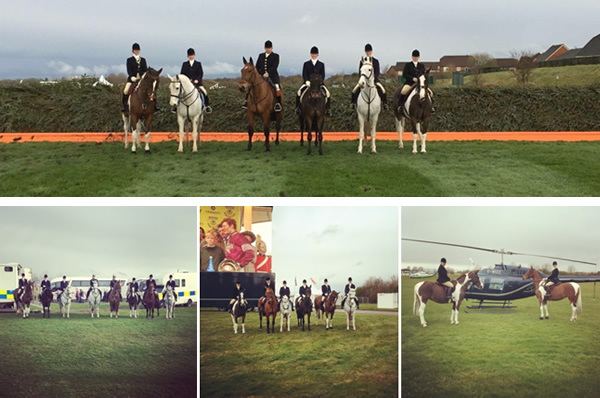 They are left to right Gemma Mullin, Chloe Edgar, Simon Grimble (Chloe's partner), Charlie Allen Amy Bryan-Dowell and Shirley Oultram. Charlie's horse, Harry is 25 and was retired after he had finished his duties for the Grand National.
Area 12 Summer Show 29th May 2016
The 40th AGM was held on Sunday 20th March at Hogarths Hotel, Solihull by kind permission of Mrs Helena Hogarth. 103 Members and friends attended the event comprising of 84 Full Members, 6 Juniors and 13 Visitors with 71 sitting down for lunch. Please click here for more news about the AGM.
For details on the Hunting Button Recipients 2016 please Click here
SSA Member at Kildare Hunt Club March 2016

Area 21 member Robyn Catterall took part in a Performance Hunter Show run by the Kildare Hunt Club. Ten side saddle riders took part in the class. Robyn was 5th riding Ballytoher Sabrina. The course consisted of 12 hunting obstacles including hedges, ditches, walls, wire and gates up to 1m.
THE NATIONAL EQUINE FORUM 2016
The National Equine Forum (NEF) is held annually and is the only event of its kind in the UK to bring all sectors of the equine industry together under one roof to discuss topical and controversial issues. This year the Side Saddle Association was represented by Janet Senior, Chairman, Sally Lane, Hon. General Secretary and Angela Wells, Chairman Area 8.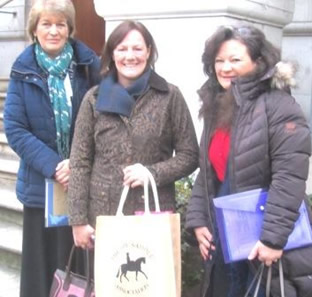 The forum is recognised in the horse world as an outstanding opportunity for networking with the leaders of the industry. It included an audience of invited members of the key disciplines and interests in equestrianism, and this year was attended by Her Royal Highness the Princess Royal and a Government Minister. The Side Saddle Association delegates were invited to be presented to Her Royal Highness the Princess Royal along with other select groups.

The aim of the National Equine Forum is to inform, educate and help the industry to speak with the united strength of one voice on topical matters affecting the current and future management and wellbeing of the horse. Principal vets, welfare officials and equestrian industry experts were under the spotlight to discuss equine health, welfare, legislation, behaviour, competition and veterinary science.

The programme was educational and thought provoking and included a Chief Veterinary Officer Panel Discussion, an update on EU Animal Health Regulations and a presentation on Behaviour in all Working Equids. In the lively topical spots amongst others Celia Marr, Chair of the Horserace Betting Levy Board Veterinary Advisory Committee and editor of the Equine Veterinary Journal explained why God helps those who help themselves, Tony Tyler, Deputy Chief Executive of World Horse Welfare spoke on Just a Matter of Proportion, Prof Derek Knottenbelt presented Always Consult the Professional and Natasha Adkinson, International Para Dressage Athlete talked about Tweeting for Tokyo.
Can you help find a lost pony?
Please click for more information - www.ponypromise.com
The Society of Master Saddlers Annual Saddlers' Competition
The Society of Master Saddlers Annual Saddlers' Competition was held on Monday 8th February 8th 2016.This year the S.S.A. was represented by Vice President, Elizabeth Turner. Please click here for more news about the event.
Area 12 taking to the mud to fund raise!
On May 14th 2016 at Belvoir Castle five brave Area 12 committee members and one member will take on the Tough Mudder course, this unique challenge will test them to the limit! All sponsorship and donations will be welcome. Please click here for more information.
Area 5 Members out on foot!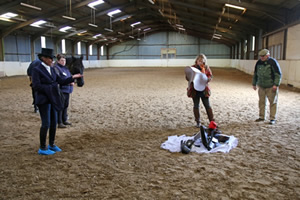 Area 5 held their annual "On Foot" Rally on Sunday 7th February 2016. To learn more about this event please click here
SSA MEMBER PROMOTES SIDE SADDLE RIDING IN JAPAN
Rieko Kikegawa, a Life Member of the Side Saddle Association since 1994 recently took part in a Side Saddle Demonstration to celebrate the 50th anniversary of Niigata racecourse.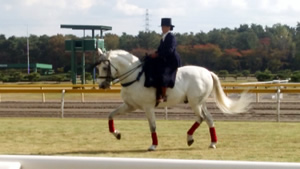 PRACTICAL BAGS TO MEET YOUR SHOPPING AND STORAGE NEEDS
We have available Jute Shopping Bags with the SSA Logo on, great value at £8.00 inc P&P.
The Stirrup/ Kit Bags are still available at £7.20 inc P&P
There are a few Side Saddle International Celebration Weekend DVD's left at a special offer price of &8.50 inc P&P, this is the last chance to  have your own copy of the action packed activities at Aintree as the DVD is a limited edition and no more will be produced. For multiple quantities please contact the Hon. Gen Secretary for P&P prices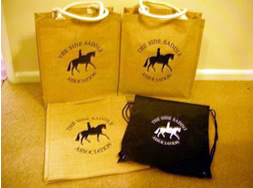 All proceeds to the SSA. Click here to Download an Order Form or contact the Hon. General Secretary
DIANAS OF THE CHASE CUP 2015
The Dianas of the Chase side saddle cross country race was held for the third time on 29th November at Ingarsby Hall, Leicestershire.
The race was won by Millie Stewart-Wood; however the Side Saddle Association was well represented in the field of fourteen who tackled a challenging course of 14 fences across two miles of prime Quorn hunting country.
Four S.S.A. Members finished in the top six and our congratulations go to Pippa Booth (Area 5) who finished 3rd, Beth Jacomb (Area 4) 4th, Laura Elliott (Area 5) 5th and Sarah Byrne (Area 10) 6th. Congratulations to Sarah Byrne who also won the best turned-out rider sponsored by The Old Hunting Habit.
Wincanton Racecourse hosted the historic first side saddle race at a Jockey Club Racecourse in a charity partnership with the Southern Spinal Injuries Trust and the "Dianas of the Chase" race series on Sunday 25th October 2015. Click here to Download
Congratulations to Laura Dempsey
Congratulations to Laura Dempsey, Area 5 member and Side Saddle Specialist on her appointment as President of The Society of Master Saddlers.
The Horse of The Year Show 2015
Several Side Saddle Association Members competed in the Ladies Side Saddle Horse of the Year Championship at The Horse of The Year Show with Area 4 Member Amelia Bevan scooping 4th place.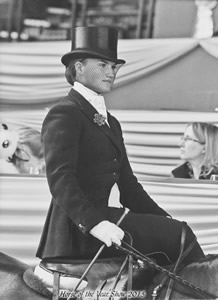 To read more please click here
| | | |
| --- | --- | --- |
| | | The Side Saddle Association hosted a Saddlers Side Saddle Fitting Training Workshop on Monday 28th September 2015 at Moreton Morrell College and Pittern Hill Stables in Warwickshire. |
We have introduced a new section called the "Hunting Corner" to the members Only page. The new section will feature information about forthcoming side saddle meets, hunting reports and other hunting related news. To keep the page current and interesting please send your hunting news, reports, stories, photos and other information to the Hon. General secretary.
BSHA Total Impact Equestrian Ladies Show Horse Championship
The BSHA Ladies Show Horse Championship was held at the British Show Horse Association Championship Show at Addington Manor Equestrian Centre from 11th to 13th September 2015. Congratulations to Georgina Steele who was the highest placed SSA Member. The top placings were:
First - Hallmark ridden by Fay Ludlow
Second - Courtland Royal Fair ridden by Michelle Underwood
Third - Colbeach Mark of Distinction ridden by Georgina Steele
Display at The Munnings Museum

Area 4 were invited to give a display to support a special exhibition at The Munnings Museum at Dedham, Colchester.
The exhibition was about Lady Munnings, wife of the artist, which featured photographs and paintings of her on horseback.
The Museum wanted to add something more to the visitor experience and the display led by Clare Simper was enjoyed by the visitors to the event.
Saddlers Side Saddle Fitting Training Workshop
The Side Saddle Association invite you to a Saddlers Side Saddle Fitting Training Workshop on Monday 28th September 2015 to be held at Moreton Morrell College Moreton Morrell Warwick Warwickshire CV35 9BL (Sat Nav postcode: CV35 9BP)
Opening Ceremony of the European Championships at Aachen
Members of the Side Saddle Association took part in the Opening Ceremony of the European Championships at Aachen on Tuesday 11th August 2015. Looking a picture of grace and elegance the riders did the Side Association proud, well done to them all. More news and pictures to follow.

SSA Member Georgina Hulme wins Reserve Supreme Champion
| | | |
| --- | --- | --- |
| Side Saddle Association Member Georgina Hulme wins Reserve Supreme Champion at the recent National Palomino Society Show. | | |
Your help is needed again! The British Horse Society launch Ragwort Awareness for 2015 on Tuesday 7 July 2015 to coincide with the current growing season.
Click here for more information
Please note that point 1.13 of the Equitation Class Turnout reference jewellery applies to ALL Side Saddle Association Classes.
Riding Sideways at British Dressage Team Quest
On 13th June 2015, four intrepid ladies entered the British Dressage Team Quest Competition at The College of West Anglia Cambridge Campus.
Click here to find out more
International Side Saddle Weekend 2015
The 40th Annual General Meeting of The Side Saddle Association was held on Sunday 22nd March 2015 at Hogarths Hotel, Solihull by kind permission of Mrs Helena Hogarth. 100 Members and their guests were present.

After the meeting National Show Trophies were presented along with The Ralph James Memorial Trophy which was awarded to Caroline Steggles, pictured below receiving the trophy from President, Maureen James.
The 40th Annual General Meeting of The Side Saddle Association was held on Sunday 22nd March 2015 at Hogarths Hotel, Solihull by kind permission of Mrs Helena Hogarth. 100 Members and their guests were present.
After the meeting National Show Trophies were presented along with The Ralph James Memorial Trophy which was awarded to Caroline Steggles, pictured below receiving the trophy from President, Maureen James.
The Billette Mackie Scholarship was awarded (in abstentia) to Kim Johnson and Sponsor Phyllie Robertson of "Side Saddles" presented awards to the Performance Points Winners.
Pictured above left is the array of awards for the Performance Points winners and right with Gillian Greenwood and Phyllie Robertson is Samantha Wilson receiving the Supreme Championship for points won by her horse Nirvana Tywysog.

A presentation was also made to retiring Vice-Chairman Yvonne Huber.

Following lunch a Question & Answer session was held which enabled the Members to ask questions about a wide variety of topics which resulted in an interesting and information exchange.
SSA Members off to Aachen
Flying the flag for The Side Saddle Association are Members Caroline Wilkins, Lauren Allen, Hazel Allen, Claire Lewis, Chloe Gunn, Samantha Boxall and Robyn Catterall, who are off to take part in a Side Saddle Display at the FEI European Championships Opening Ceremony in Aachen on 11th August 2015. They will be joined by Heidi de Ruyver (Belgium), Susan Oakes ( Ireland) and Rebecca Holland (UK). Up to 50,00 spectators are expected for what will be a spectacular ceremony with a focus on the history of Horseshows in Aachen which included side saddle classes in the 1920's and 30's.
The 2014 Performance Points Winners
The 2014 Performance Points Winners have been announced, congratulations to Supreme Champion Samantha Wilson riding Nirvana Tywysog
click here for more results
Congratulations to Clare Barnett
Clare Barnett, Area 10 member wins Side Saddle Competition at The Society of Master Saddlers, National Saddlery Competition -
click here for more information
The London New Year Parade 2015
Being involved with the Side Saddle Association for well over 15 years has enriched my life, provided new experiences, gained friends and also a pair of godsons. However, this new year was probably my most surreal side saddle experience yet.
I can't quite remember exactly when (or indeed if) I actually said yes, but something must have been agreed, as I found myself heading down to London at the end of December. Kirsty is one of those friends that makes up her mind to do something, and then does it. Often though this doesn't just involve her, and it invariably sees me involved with some sort of grooming/towing/childcare activity at random locations throughout the country along with Galloglass an 18hh shire/tb cross.
Galloglass (or Big Gee) belongs to husband Mark, but was purloined several years ago when Kirsty decided that she was going to learn to ride side saddle. Since then he has taken part in many shows and events. Having reached the grand old age of 20 years, Kirsty decided to retire him after the 2014 National Championships.  This however has led to a string of bucket list/swan song retirement activities for the pair which I am sure will extend well into 2015 (and probably beyond).
The latest retirement activity was to take part in the London New Years Day parade. Until last September, I wasn't even aware that this existed, or what it involved, but thanks to Kathleen Botting, Kirsty got wind of it, and we were soon booked to participate! The section which we were part of was organised by Caroline Marsh, and featured the All The Queens Horses Team.
Disaster nearly struck when the gear box went on the Discovery, but thanks to Rachael Barker and the loan of "Thomas" we were able to make our rendezvous of 9am on New Years Day at Stratton Street right outside the Mayfair Hotel. Due to being parked nose to ramp, it was virtually impossible to unload until you absolutely had to, as there was no way to get your horse back unless you had a side ramp. Luckily Big Gee is a very biddable character, and stood like a rock whilst we dismantled the partitions in the trailer so we had room to get him plaited and spruced up.
The LNYDP features a myriad of participants, from horse and rider, Mods and scooters, to vintage steam vehicles. These appear making their way through the streets of London in between marching bands from all over Europe and the USA. The video links that we had been sent explaining the format, and what was involved absolutely did not prepare you for the atmosphere and the noise when the marching bands started warming up. The sound rolling between the high rise buildings, echoing down the street into the trailer was unbelievable, particularly when they started drumming. Gee raised his head and flicked his ears, but otherwise was quite unperturbed.
After a briefing we were asked to have our horse and rider ready for 11.30. After taking him for a walk up and down the street so he could have a good look around, we started to tack up. Just before 12 All The Queens Horses team were assembled and ready to go. The horses were absolutely brilliant, apart from a couple skitting around at the very start; it was amazing to see how unfazed they were. Kirsty was lucky enough to be paired up with Kirsty Austin, who was dressed in a beautiful costume habit, and whose horse was equally as settled as Big Gee.
The parade took us down Mayfair, past The Ritz Hotel, alongside Trafalgar Square, down Whitehall, past Downing Street and into Parliament Square. Of course, we didn't see most of this, or really appreciate where we were, as the streets were lined with crowds of people, cheering and waving flags and you couldn't see much of the landmarks. After reaching Parliament Square, we split up from the main parade, and took a right hand turn and rode down to Horse Guards. This gave us a fantastic opportunity to have photographs taken in front of an amazing backdrop. The area is completely open, and it wasn't long before we were being swamped by foreign tourists wanting photographs alongside the horses. Big Gee very quickly realised that these were not "horse" people and had great fun giving a huge snort just as the photographer was pressing the button, and watching people flee in terror.
After a short break, the ride made its way up the Mall, for another photo call outside the gates of Buckingham Palace, before a canter up the sand track alongside Green Park. Being one of the first groups to go, the parade was still taking place as we made our way back to the trailer, two hours after we had set off.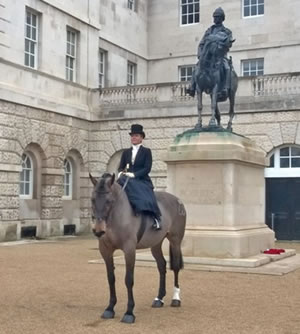 What an amazing opportunity to take part in something really very different, create some fantastic memories and meet more lovely people. A truly fantastic day, and if you have the sort of horse that would cope with it, something that I recommend you consider doing. Thank you to Caroline Marsh, Kathleen Botting, Sophie Brown, Kirsty Austin, Rachael Barker and everybody else involved!
It looks like Galloglass may have the longest build up to retirement ever, as a certain somebody has been looking up hotels for this year!
Lottie Parkin. Area 5.
| | |
| --- | --- |
| Ladies Side Saddle Horse of the Year | Posted: December 2014 |
The Ladies Side Saddle Horse of the Year is replacing the Ladies Hunter class. The final of this new class will be held at the prestigious Horse of the Year Show. The class will be open to Hacks, Cobs, Maxi Cobs and Riding Horses, as well as Hunters, registered with the British Show Horse Association, ridden side saddle by a lady.

The aim of this new class is to encourage greater participation in the class and to make it appeal to a wider audience. The Championship and its qualifiers will remain under the administration of the British Show Horse Association, and horses will be judged according to their type, conformation, manners and their suitability to be ridden side saddle.
If you have a Hack, Cob, Maxi Cob, Riding Horse or Hunter and want to take part in this new and exciting class check out the British Show Horse Association website britishshowhorse.org/ for more information or the Horse of the Year Show website www.hoys.co.uk A qualifier for this class will be held at the National Side Saddle Show at Addington Manor on Saturday the 1st August.
| | |
| --- | --- |
| Atherstone Hunt Meet | Posted: December 2014 |
The Atherstone Hunt kindly hosted a Side Saddle Meet at Ibstock on Saturday 13th December 2014. After a cold, crisp start a bright sunny day developed and a good field including two intrepid side saddle riders were in attendance. A good day ensued with the field on the move and getting plenty of jumping. It is hoped that this will be an annual event and more side saddle riders will join the field next season for an action filled day.


Thank you to Mick Smith and family for the photos.
| | |
| --- | --- |
| New Sponsors for BSHA Side Saddle Championship | Posted: November 2014 |
Started in 2013 with the aim of furthering the showing of Hacks, Cobs and Riding Horses side saddle, by increasing the awareness and appreciation of side saddle show production in both our own Association and the Side Saddle Association this championship, originally sponsored by iPura, has gone from strength to strength with over 30 SSA qualifying classes, alongside those run by the BSHA. The BSHA is delighted to announce that Sara Egan of Total Impact Equestrian has taken on the sponsorship for 2015.
Sara Egan and her partner Andrew van Oostrum who is senior master of the Staff College & Royal Military Academy Sandhurst Drag Hunt began their online business Total Impact Equestrian in 2012 catering for the show and sport horse competitor, and including a bespoke range of tack designed exclusively by Jayne Ross in the best English leather for the show ring. Many a professional and amateur alike are to be seen in the ring with the custom Hunter/Cob bridle adorning their horse.
The business has grown roots this year by opening a shop in a beautiful rustic converted stable in the village of Eversley in Hampshire, with a full range of show products from Top Hats to Tack Lockers, Shampoo to Show Rugs, all available in store and on line. The shop also sports a lovely 'preloved' department where you can find smart boots, jackets and other show/hunting wear.
Sara herself is no stranger to the show ring, having shown Hacks and Riding Horses, M&Ms and Sport horses to County Level, and is the proud owner of former HOYS Supreme The Philanderer on whom she now hunts and does dressage. She previously worked for Guy Landau and Carol Bardo before opening her own livery yard and the show and sport horse kit business so is well placed to know what's hot and what's not in the ring.
Sara and Andrew have a three year old daughter who shows and hunts her section A on the lead rein and is very keen to contest the show pony classes next year. Andrew is already on the lookout for a tiny side saddle!
Sara says 'we are really excited about having the opportunity to put something back into the sport we love. Good luck to everyone competing and we look forward to seeing you all at the BSHA Championships which is our favourite show'
| | |
| --- | --- |
| Side Saddle Riders In The Hunting Field | Posted: November 2014 |
15 side saddle riders, pictured below at the meet, graced the field at the Cheshire Forest meet on Saturday 15th November 2015.


Thank you to Sally Nicholson for the photo.
Over 20 riders riding aside added to the elegance of the Quorn Opening meet on Friday 24th October 2014. Pictured below is part of the photo call line up from the meet.


Thank you to Lydia Robinson for the photo
| | |
| --- | --- |
| Your Horse Live | Posted: November 2014 |
The Side Saddle Association took their stand to the Your Horse Live Event at Stoneleigh Park, Warwickshire on the 8th & 9th November 2014.
The activity was headed by Shirley Oultram and Cath Marchbank who set up the stand and stayed for the duration of the event. Alongside Shirley and Cath the stand was manned with a support team comprising of Jackie Banks, Claire Brown, Katy Downing, Lisa Lane and Sally Lane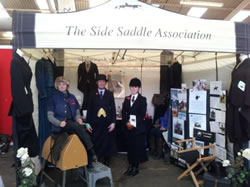 The Association attracted a lot of interest with well over 300 people visiting the stand with many expressing an interest in taking up the art of Side Saddle riding and joining the Association.
Thank you to everyone on the stand who worked so hard in making the event such a success by being so welcoming and helpful to the visitors and so creating a positive profile for the Side Saddle Association.
| | |
| --- | --- |
| Saddlers Forum | Posted: November 2014 |
The Side Saddle Association recently hosted a Saddlers Forum to bring together interested parties to discuss the challenges facing the ongoing development and participation in the elegant art of side saddle riding.
The forum was attended by SSA Officers, Specialist Side Saddle Saddlers and Suppliers. All were in agreement that there is a growing interest in side saddle riding and therefore an increased demand for saddles. More saddles are needed and while Members have a passion for the old, traditional saddles there is a growing market for new saddles.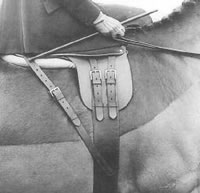 An exciting development is the production of a new side saddle tree by Vale Brothers Limited in conjunction with Rob Jenkins. The Saddlers in attendance were excited by this development and are looking forward to making saddles using the new tree. Additionally the Saddlers wanted to work more with the Side Saddle Association to learn the rider perspective especially in relation to the fitting and balancing of saddles and it was agreed that the SSA will look at setting up some Saddle Fitting Training Days. Other ideas to promote the use of new saddles and to develop a stronger partnership between the SSA, Saddlers and Suppliers were discussed and other initiatives will develop across the coming months and a meeting with Saddlers will continue on at least an annual basis.
The forum was a positive event concluding with a pledge from the SSA, Saddlers and Suppliers to work together so the preservation, promotion, safety, horse welfare and ongoing development of side saddle riding could be ensured.
| | |
| --- | --- |
| Honorary Newsletter Editor | Posted: November 2014 |
The Side Saddle Association is pleased to announce that Louise Graham, a Member of Area 12, has taken on the role of Honorary Newsletter Editor. Louise has been a long term supporter of the Association and as well as being an active competitor she is also on the Association Judges' Panel. Louise is Editor of the Equestrian Life Magazine and we look forward to her using her knowledge and expertise to produce an interactive and engaging newsletter for our Members. Details of the next editorial dates will be circulated soon, however in the meantime if you have any articles that you would like to put forward for the next edition Louise's contact details are:
The Rosary, Syerston, Newark, Nottinghamshire, NG23 5NE. Tel: 01636 525341. Email: l.v.graham@btinternet.com
Finally we would like to take this opportunity to thank Sophie Campion, the retiring Honorary Newsletter Editor, for all her hard work during her time in the Editor's seat.
| | |
| --- | --- |
| Claire Brown shares the experiences of the SSA Members who recently rode at Aachen | Posted: October 2014 |
In October, myself and five other very enthusiastic SSA Members made the journey to Aachen, Germany to compete at the German Side Saddle Championships. The Deutsches Damensattel Derby is held in the incredible Albert Valle Halle in Aachen. The FEI European Championships are being held in Aachen next year so you can imagine how amazing the facilities are!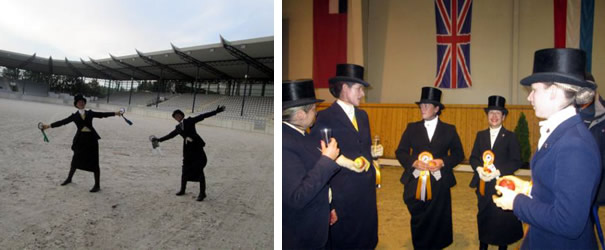 We were made to feel very welcome by Show Director Bettina Keil; and Nadine Hengen was brilliant sorting out all the International riders. Eleven nations were in attendance which just goes to show how strong the side saddle revival is. Myself and Caroline Wilkins took our own horses whilst Ester Turner, Paula Keeley, Kelle King and Sylvia Kolodziej borrowed horses.
Phyllie Robertson brought along the "Side Saddles" trade stand which caused a lot of interest and was a great place for us British ladies to congregate!

The classes were mainly dressage, dressage to music, dressage to music with costume and both costume and classic concours d'elegance. Most classes had either two or three judges and they included Liz Turner who had travelled over from Cornwall. There were also some historic cavalry renactments in between the side saddle classes which the audience thoroughly enjoyed!
I can most definitely recommend a visit to Aachen. It is amazing to ride at such a beautiful place with a very special atmosphere. The German team were great and nothing was too much trouble to ensure their overseas guests had an enjoyable time. The Riders Night Dinner on Saturday evening was a lovely touch with great food, it was buzzing with the talk of side saddle and the day's competition. I can't thank our hosts enough for this amazing experience and we are thoroughly looking forward to next time!

Claire Brown – Joint Chairman Area 14.
---
| | |
| --- | --- |
| Sealed Bid Auction for Stallion Nominations | Posted: October 2014 |
---
| | |
| --- | --- |
| Is there a Side Saddle in your Attic? | Posted: October 2014 |
To ensure the continuation of side saddle riding more side saddles are desperately needed. Do you have, or know of, any side saddles not currently in use, or simply left lying around in your attic, tack room, barn or garage?

The Side Saddle Association is proud of its achievements in ensuring that the elegant art of side saddle has been sustained and developed into the 21st century, and will continue to promote the dignity and versatility of side saddle riding to a wide audience. The Association remains the leader in the art of side saddle riding in the UK, and indeed worldwide; to maintain that status, an ongoing supply of side saddles for our members is of paramount importance.
The aim of the Association is to uphold the tradition of side saddle riding, not only for the next generation but for generations to come. We must protect our heritage; but without side saddles we do not have a future.
The Association fully appreciates and understands that Granny's/Great Aunt's side saddle may be a treasured possession or is of sentimental value, but if it is not being used, perhaps you would consider bequeathing, leasing or selling it to one of our Areas or an individual member? Our members are prepared to pay a fair price and will unreservedly cherish and take pride in using and/or owning it, so please don't be afraid to entrust your valued side saddle to the next generation!
If you have a side saddle and want to contribute to the survival of this wonderful and elegant art of riding, then do not hesitate to contact the Association:
Ms Sally Lane, Hon. General Secretary, The Side Saddle Association. Tel: 01455 208345 Mobile: 07442 504071
Email: secretary@sidesaddleassociation.co.uk
---
DATES FOR YOUR DIARY 2021
| | | |
| --- | --- | --- |
| | 6-8 Aug | |
The editorial deadline dates are:
14 March 2021 & 11 Aug 2021
Please send any notices, news, views or stories with supporting photos if applicable to
Emaill.v.graham@btinternet.com, or the SSA Hon.
General Secretary: secretary@sidesaddleassociation.co.uk
Alternatively post your information to:
Ms S M Lane Hon. General Secretary The Side Saddle Association The Lodge Glebe Farm Broughton Astley Leicestershire LE9 6PG