The Polish Side Saddle Championships combined with an International Side Saddle Competition took place on the 1st and 2nd of October in Lewada Zakrzów. Side-saddle riding in Poland has been growing in numbers over the last decade, and 24 riders from three countries ( Great Britain, Czech Republic and Poland)  took part in the event. The two-day competition consisted of 16 tests . 
Virginia Bulawa – Dziarmaga  Polish Jumping Champion (left) and Aleksandra Adamczyk Polish Dressage Champion (photo Rozalia Bachula)
Please click here for more information about this event
Wendy Tidbold, one of the SSA's Worldwide Contacts from the Queensland Side Saddle Interest Group has recently featured in an article in the Australian Women's Weekly titled The Last of Their Kind. The article focuses on Wendy's work as a saddler. Click here to find out more.
Rieko Kikegawa, a Life Member of the Side Saddle Association since 1994 recently took part in a Side Saddle Demonstration to celebrate the 50th anniversary of Niigata racecourse.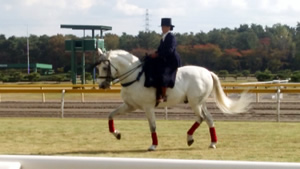 Click here to Download full details
We were delighted to welcome our guests from overseas who had travelled far and wide to support the event. Please click here for more information
The Spanish Sidesaddle Association held an International Sidesaddle Show in Cordoba during the last weekend of May 2014 , coinciding with the exhibition of the three Riding Schools of "Cordoba Ecuestre", the Portuguese School of Equestrian Art and the Cadre Noir of Saumur that took place in the bullring. A full weekend for sidesaddle riders and horse lovers alike.